Uncut March 2006 Magazine and Playlist CD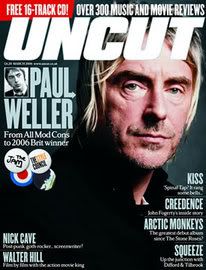 As Paul Weller recently received a Brit Award for Outstanding Contribution to Music (essentially a lifetime achievement award), naturally
Uncut
felt it a particularly appropriate occasion to
spend "a day - and a night - talking and drinking and gigging and clubbing"
with him. Then they stopped giggling long enough to figure out how to turn a day - and a night - of talking, drinking, giggling, and clubbing into an article, and honored "the Modfather" by putting him on the cover of the magazine.
Only not on the US editions, which instead feature KISS, boasting "We
were
Spinal Tap!". Maybe Weller never offered to pay for a single round, all day or night. There must be some explanation for what on the surface appears a pretty cold way to treat your drinking (and giggling) buddy. Surely it isn't just that Uncut feels a Weller cover wouldn't move as many copies as... a
KISS
cover?
Uncut's
explanation
:
"EXCLUSIVE KISS COVER AVAILABLE ON ALL US EDITIONS!
On the 30th anniversary of The Year They Ruled The States, metal make-up gods Kiss feature on the front cover of this special American collectors' edition of Uncut* *All other content remains the same as the regular edition"
It's a "collectors' edition"! Man, those with the ordinary Paul Weller cover must feel a tad ripped-off.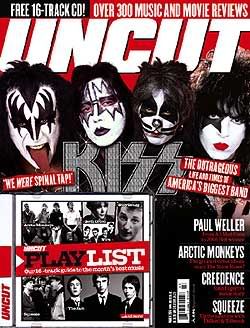 Both the regular and collectors' editions include interviews with Sparks, Squeeze, and Philip Seymour Hoffman, as well as brief interviews with Mew, Suzi Quatro, and, yes, of course, Jenny Lewis.
In a page-long Q&A, Pete Shelley is asked whether he and John Lydon were lovers ("To my knowledge, it's not true.") and whether he "looks up to" or "down upon" Morrissey ("More the former. I do believe that
Hatful of Hollow
is one of the great albums. I also firmly believe he stole my idea of the non-gender specific lyric. I suppose imitation is the sincerest form of flattery.") He also says the Buzzcocks will go on tour next year to mark their 30th anniversary and likely play more older material. He names "the great punk bands" as "Pistols, Clash and Buzzcocks."
The cast, director, and writer of a "violent western set in the Australian outback" called The Proposition are also interviewed. Uncut seems particularly interested in it because Nick Cave wrote it, and it doesn't hurt that Guy Pearce is in the cast. The film addresses the "the racial politics of colonial Australia, challenging liberal accounts of tribal tensions between Brits and Irish, white settlers and Aborigines." There's lots of graphic violence, including "rape and torture" but "it's ultimately a story about the healing power of love."
There's also a short feature about the B-side of Morrissey's single "You Have Killed Me", a cover of the New York Dolls' "Human Being". Moz has long been outspoken in his love for the band, and Uncut notes that in his pre-fame days, he wrote their first biography and "organised" their UK fan club. He's sung their tunes in concert, but "Human Being" will be Morrissey's first studio Dolls cover.
Review-wise, Beth Orton's
Comfort Of Strangers
is given 4 stars (of 5) ("Without altering her style drastically, Orton has broadened her approach on what is her most accomplished record to date.")
Howie Beck's self-titled album, which Uncut notes was first released in the U.S. in December 2004, receives 3 stars and is dubbed "a rewarding slow-burner." The reviewer feels the album, which features Ed Harcourt and Nada Surf, "takes a while to percolate" but that "repeated plays show" Beck "to be as subtly flavoured as Joe Pernice or Elliott Smith, though perhaps lacking the requisite hooks." "Don't Be Afraid" (on this month's Uncut CD) is pretty catchy, anyway.
This month's Uncut CD,
Playlist
is called "our 16-track guide to the month's best music". It includes some older songs, but they're from reissued/remastered and reissued albums. Lots of nifty songs this month; you can listen to more of them at Uncut's
website
.
Uncut Playlist Track Listing
1. Arctic Monkeys - Fake Tales Of San Francisco
2. Two Gallants - Steady Rollin'
3. Roger McGuinn - Silver Dagger
4. Squeeze - Another Nail In My Heart
5. Beth Orton - Shadow Of A Doubt
6. Billy Bragg - Greetings To The New Brunette
7. Janis Ian - The Great Divide
8.
Wire - Map Ref 41 degrees North 93 degrees West
(from
154: Remastered
)
9.
The Broken Family Band - Diamonds In The Mine
(from
Balls
)
10.
Kelley Stoltz - The Sun Comes Through
(from
Below The Branches
)
11.
Howie Beck - Don't Be Afraid
(from
Howie Beck
)
12. Richard Thompson - Tempted
13. Scott Walker - Sleepwalkers Woman
14.
Clearlake - Far Away
(from
Amber
)
15. Roger Dean Young & The Tin Cup - Little Wind
16. The Jam - To Be Someone