Paste Magazine CD: April/May 06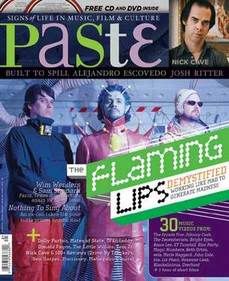 The Flaming Lips don wacky outfits for the cover of the latest
Paste
, which perhaps fits in neatly with the cover copy, "The Flaming Lips Demystified: Working Like Mad to Generate Madness". Or perhaps not; how hard is it to wear a silly outfit?
Behind the kinda-mad cover, Paste examines the question "Does Live Music Still Matter In Manhattan?" Rising real estate prices and fewer customers have led to the closing of many clubs, such as The Bottom Line, Wetlands, and Fez. And even CBGB is planning to close in October. The closing of all these music clubs has left New York with at least one more deli, though. Now, I've never been to New York, but I was under the impression that there are a lot of delis there, but perhaps there weren't
enough
. The world needs music, but the world needs sandwiches too. If the area was lacking in delis, truly, this is a conundrum.
It's probably stress from being reminded that there aren't always easy answers in life that made Paste decide to run a feature on premium chocolates, complete with a taste-test of "ultra-premium" bars. Who wouldn't want to conduct that sort of taste-test, especially if they get to say things like "this is an approachable chocolate for the candy-bar set" without anyone suggesting that some people consider
chocolate bars to be candy
.
Other non-musical content in this issue includes an article about
Googie architecture
, look at neon in Vegas, and a piece on the anamorphic illusions created in
Julian Beever
's artwork.
A Glimpse At Some of Paste's Interviews This Month:
Dolly Parton naturally (?) is asked "If you were a man, what kind of man would you be?" Her answer: "A good one. An honest one. A fun one. A smart one. A passionate one. A horny one. Did I say a hansome one?"
There's a brief chat with Donald Fagen, whose latest solo album,
Morph The Cat
, is garnering high praise, but it looks like they didn't ask him what kind of a woman he would be, if he was a woman, so I lost interest pretty quickly.
Mates Of States were simply asked the five best things about making music with their spouse. Three is my favorite number, so let's just look at #3: "You Have To Fight The Rock 'n' Roll Myths: Because we're married and have a kid, people assume we're a domestic, family act and that we're not rock 'n' roll," says [drummer Jason] Hammel. "But the two things are not incompatible. [Organist] Kori actually got pregnant on the road - it was backstage while Death Cab was playing." Yes, but during what song(s)? Oh, the curiousity! I may never know the answer. If only my favorite number was five, I could have written about Kori's bragging that they don't have to wait for groupies and can have sex whenever they want. Oddly, in the picture accompanying this piece, Kori is smiling, but Jason looks troubled. This seems to be something of a theme in their publicity photos. Not to read too much into it, but... whenever
they
want, or whenever
you
want, Kori?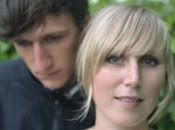 Not the photo from Paste (don't have that one); a different happy Kori/unhappy Jason pic...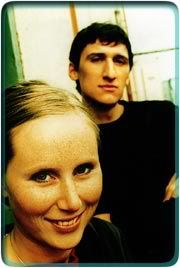 Right...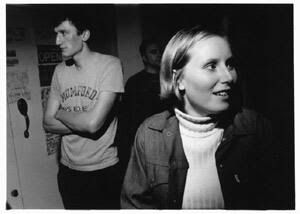 Oh dear.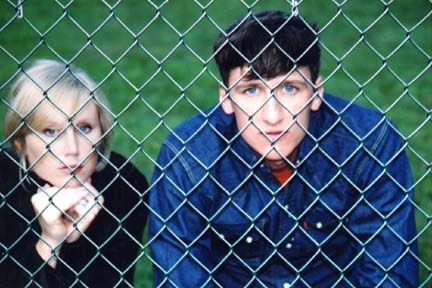 Their expressions match here, but it's difficult to consider it progress. Hang in there, kids! Just keep listening to Death Cab, making sweet music in the multiple senses of the term, and... maybe schedule fewer publicity shoots. I think it may just be posing for photos that's annoying.
Elsewhere, Jason Lytle discusses the breakup of Grandaddy. "Unfortunately, money was a big part" of the decision to end the band, he tells Paste. According to Lytle, his bandmates were "always broke" and he "was exhausted with having to constantly dish out excuses and assurances and false hope. We did this for a long time, often considered on the verge of greatness, and greatness never came, and collectively the will to make that happen disappeared." Some of his former bandmates "are already well into their new jobs, jobs that have nothing to do with music." Some are sticking with music, and Lytle feels they "are sure to make themselves known in due time." Lytle's sticking with a career in music as well, and says he plans on "working even harder" than he did when he was in Grandaddy, "and making every second of it matter even more."
This issue of Paste includes many more interviews, including ones with Hem, His Name Is Alive, Calexico, and Isobel Campbell & Mark Lanegan. There are longer interviews with Josh Ritter, The Flaming Lips, Built To Spill, Alejandro Escovedo, and Wim Wenders and Sam Shephard.
Review-wise: another 3-star review for Morrissey's
Ringleader of the Tormentors
, same for Neko Case's
Fox Confessor Brings The Flood
.
More to Paste's liking:
* Destroyer -
Destroyer's Rubies
(4 1/2 stars - "What is a masterpiece? It's not an aberration, but a crystillization of vision; it's the components of an artist's conceptual mechanism thrumming in perfect harmony... he sings with the prolixity and conviction of Dylan in his prime, reeling off lyrics Alexandrian in their dense allusiveness - the sort of magical prtiod pastiches The Decembrists would give their corsets to write.")
* Half-Handed Cloud -
Halos & Lassos
(4 stars for the latest album from John Ringhofer, who records as "Hald-Handed Cloud" and often collaborates and tours with Sufjan Stevens. Paste calls
Halos & Lasos
"the most focused. melodically punchy and accessible release in" Ringhofer's catalog.
* Josh Rouse -
Subtitulo
(4 stars - "With its gentle rhythms and 33-minute running time,
Substitulo
seems slight at first listen but the songs eventually marry, suggesting the progression from a dead end to a new start - one that's clearly romantic in nature")
* Centro-matic -
Fort Recovery
(4 stars - "A crafty deposit in our collective musical bank account.")
* Liars -
Drum's Not Dead
(4 stars - "a concept package of thick, heavy rhythms and snaking guitar drones tied up in a bow of oddly sweet vocal melodies.")
Among the other albums deemed worthy of 4 stars: Jason Collett's
Idols of Exile
, Loose Fur's
Born Again In The USA
, The Concretes'
In Colour
, Tres Chicas'
Bloom, Red & The Ordinary Girl
, Tim Robinson's
Money in the Woods
, and The Wood Brothers'
Ways Not To Lose
.
As always, this issue of Paste includes a CD; this month's CD is quite good. Subscribers get a DVD as well. This issue's DVD contains some short films, assorted clips and trailers, and 30 music videos (including Eels' "Dirty Girl", Amos Lee's "Colors", KT Tunstall's "Black Horse and Cherry Tree", VHS or Beta's "You Got Me", Beth Orton's "Conceived", Rosie Thomas' "Pretty Dress", and John Cale's "Perfect").
The Paste April/May 06 CD Track Listing:
1. Built To Spill - Conventional Wisdom (edit)
2. Mates Of State - Fraud In The '80s
3. Nicolai Dunger - Hunger
4. Rhett Miller - Help Me, Suzanne
5. The Golden Dogs - Yeah!
6. Richard Julian - Cheap Guitar
7.
Margot & The Nuclear So And So's - Skeleton Key
(from
The Dust Of Retreat
)
With the exception of a "Wooo!" toward the end, this is a really good alt-pop-rock song. I'd like to the use of "Wooo!"s in songs to be pretty much phased out, as I feel they tend to translate to "I. Cannot. Believe. How. Hard. We. Are. Rocking!" in a rather dorky way. That's "dorky", as opposed to "geeky", which could be cool. I still like "Skeleton Key".
8. The Little Willies - Roly Poly
9. Donald Fagen - H Gang (edit) (interesting jazz-pop tune)
10. Amy LaVere - Day Like Any
11.
Mellowdrone - Oh My
(from
Box
)
Zippy fun...
12. Sonya Kitchell - Let Me Go
13.
Luke Doucet - Emily, Please
(from
Broken (and other rogue states)
)
There are a lot of torch songs/songs heavily influenced by that sound on this CD... including this one from Luke Doucet...
14. Ellery - Anna
15. Wrinkle Neck Mules - Liza
16.
Guster - One Man Wrecking Machine
(from
Ganging Up On The Sun
)
Very catchy tune...
17. Garrison Starr - Let Me In
18. The Wood Brothers - One More Day
19. Umphrey's McGee - Liquid
20. Stone Jack Jones - Bread
21.
Teddy Thompson - I Should Get Up
(from
Separate Ways
)
The riff at the beginning is familiar; does anyone know what song it might be from? A song from the 70s perhaps?
22. Feathermerchants - Change My Night
Plenty of CDs, including many by these artists are available at
PasteMusic.com