The Lemonheads Sign Deal; New Album Expected In September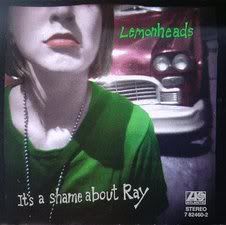 In September, the Lemonheads
performed their entire acclaimed fifth album

It's A Shame About Ray
in concert for a pair of shows in London, and reported that their eighth album was nearly finished. The group have now
signed with Vagrant to release the album
.
Frontman Evan Dando is co-producing the album - title yet to be revealed (which would make a swell title) - along with drummer Bill Stevenson, who along with bassist Karl Alvarez comprises the new lineup of The Lemonheads. September's lineup was minus Alvarez,
with Josh Lattanzi in his place
.
"Title Yet To Be Revealed"
"is being penciled in for a late September release"
. Songs
recorded for the record
include "Pittsburgh", "Black Gown", and "Become The Enemy".
Vagrant Records
President Rich Egan,
said, about the signing
, "The thing I remember most about Vagrant's first year is being locked up in my apartment, drinking coffee, stuffing 7"'s into envelopes and listening to It's A Shame About Ray on cassette all day, every day. If it wasn't for that record, we probably would've left the apartment eventually and given up the label. Nobody writes songs like Evan Dando, nobody sings likes him...the new songs are incredible. He is in top form."
The Lemonheads - It's A Shame About Ray
(from
It's A Shame About Ray
)
The Lemonheads - Rest Assured
(from
Come On Feel The Lemonheads
)
The Lemonheads - Into Your Arms
(from
Come On Feel The Lemonheads
)