Clash Magazine Ones to Watch Vol. 2 CD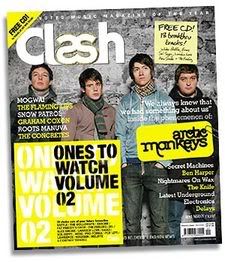 The cover of UK bimonthly
Clash Magazine
boasts "voted music magazine of the year".
The honor was
bestowed by a music industry website
, which came up with "The Record of The Day Awards" to honor music writers and PR folks. Clash won the first magazine award last December.
Clash dedicates a fair amount of space to "label profiles" - it's easy to see why the music industry would like that. Many of the labels profiled are home to artists with songs on the Clash CD included with this issue. Aside from label profiles, and "One to Watch" articles about artists on the CD, this issue includes music and film reviews, interviews with other artists (such as Mogwai, the Flaming Lips, and Graham Coxon) and a few features about fashion.
Clash Magazine: Ones To Watch Volume 02 Track Listing:
1. Larrikin Love - On South Downs
2.
Battle - Wicked Owl
("Taken from the download "Wicked Owl available from Winter 2005")
3. Merz - Postcard From A Darkstar
4. Errors - Songos ya mongos!
5. Alex Smoke - Never Want To See You Again (Edit)
6. Lawrence - Wasting A Fall
7. Fat Freddy's Drop - Flashback
8.
Sol Seppy - Move
(from the EP
Move
)
9. Mazarin - The New American Apathy
10. Jel - To Buy A Car
11. Melnyk - Jasper (He Drowned)
12.
Melnyk - Art Of Seduction
(from
Silence
)
13. Daso - Go Upstairs
14.
Pro Forma - Croation Rock Music
(from the EP
After Parting
)
15. Cortney Tidwell - Hard 2 Tell
16. Pop Levi - Skip Ghetto
17. Feeling - Sewn (live)
18.
The Holloways - Generator
(a single)