The B-52's Cancel Tour To Finish Album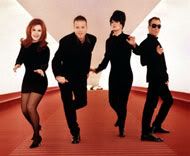 On April 3,
the B-52's
announced the
cancellation of their European summer tour
. The band explained that they have been "deeply involved in the writing of their next album, and they have become so excited with its progress that they now feel quite strongly about not wanting to disrupt their momentum." The B-52's added that they're "very much looking forward to presenting and touring behind their new album in early 2007."
Naturally, at least some of the European music press jumped right on the story. On April 22.
Today,
NME.com
informed its readers that
"The B-52s have issued a statement saying they are pulling all their European dates."
The piece does not mention the date of the statement. A link to the band's website is included, but not a link to the news page containing the statement.
Gigwise
writes that the band
"have pulled their upcoming European tour"
, mentions the statement on the official website, but does not reference its age or link to it.
It seems no reporter wants to essentially admit that they don't regularly check in with the B-52's website. It's just to embarrassing.
If a press release had been issued, it wouldn't have taken NME nearly 3 weeks to write about the tour cancellation. A week-and-a-half,
tops
! More likely, an hour.
No one can keep up with the website announcements, or even mailing lists, of every alternative rock artist. It's a
Sisyphean
task.
Such stress is why we need music like "Dance This Mess Around", perhaps now more than ever.
The B-52's - Dance This Mess Around
(from
The B-52's
)
The B-52's - Strobe Light
(from
Wild Planet
)
The B-52's - Give Me Back My Man
(from
Party Mix/Mesopotamia
)