Global Rhythm Collector's CD June 2006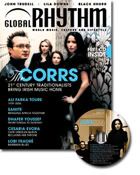 Bought a couple of new-to-me music magazines today. First up:
Global Rhythm
, which covers "world music, culture and lifestyle". I bought the June 2006 issue, which features The Corrs on the cover, looking slightly disgruntled.
Interviews, reviews, and articles inside (including one about Italian barley coffee).
Every issue includes a free CD...
Global Rhythm Collector's CD June 2006 Track Listing:
1. The Corrs - Peggy Gordon
2.
Mamadou And Vanessa - Sen Sen
(from
Nacama
. The married couple's
Nacama
blends melodies from Mamadou's Mali - specifically Wassalou - with Vanessa's American blues. Upbeat, infectious)
3.
Sara Tavares - Balance
(from
Balance
, and that e should be accented... lovely, upbeat, yet a bit mellow)
4. Homayun Sakhi - Kataghani
5. Randy Weston And His African Rhythms Trio - Portrait Of Frank Edward Weston
6. Las Rubias Del Norte - Corazon, Corazon
7.
Solas - Pastures Of Plenty
(from
Reunion: A Decade of Solas
. Fiddle-fueled cover of the Woody Guthrie song by an Irish-American group)
8. Anouar Brahem - Halfaouine
9. Kava Kon - Zombie
10. Tengir-Too - Sagynam (I Miss You)
11.
Benet - Flora Y Fauna
(from
Flora Y Fauna
. Think lo-fi/bachelor's pad music)