NME CD: Transgressive Records Sampler
Picked up the December 2nd issue of
NME
yesterday, weirdly late. I'd passed up getting it when I only saw it without the CD, but ta-da...
So I picked up the issue - with Carl Barât on the cover - the image is mysteriously absent from NME's covers archive, but here's what the CD cover looks like: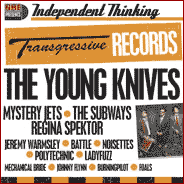 The disc is devoted to advertising one record label -
Transgressive Records
. And it's but one in a series. NME wants readers to think of each "NME Presents" disc as an "Independent Thinking" CD. Each of the labels may be independent, but what's independent about a magazine turning over the production of their compilations to record labels? Will Transgressive feel obliged to send its artists to NME for "exclusive" interviews? Will they place more ads in NME than a young independent label should? On the other hand, if they're doing as well as NME suggests they are in the liner notes, why couldn't they pay to place
this
compilation in a magazine and label it as advertising?
"Independent Thinking" isn't the perfect description for Transgressive itself either. The label is
under contract to find acts for Warner Music or their subsidiaries
. Every two years, Transgressive must find Warner Music two acts. That's not very independent. Battle (who is on the NME disc) and Larrikin Love are the first two acts.
Not every independent record label acts as a scout for a major record label. That offers bands a lot of convenience. You know that they're thinking of you as a potential major label artist, and will be careful to position you that way.
NME and the Transgressive artists they quote say a lot of sunny things about the label in the disc's liner notes, and maybe it is a great label. It's hard to know how much credence to place in their words because the CD is essentially a promotional device. So of course it's all one-sided and extremely positive. It's really shortsighted and foolish to not disclose the deal with Warner, though. In a way, makes sense, because it would expose the oddness of the "Independent Thinking" angle. To not mention it and let the company explain the deal makes NME and Transgressive both seem deceptive.
NME says the company is "run on two computers and fuelled by enthusiasm". They quote Transgressive's Toby L. saying they could have had "gold houses" if they'd accepted some of the "shocking large names" they turned down "but we don't want to live with guilt throughout our lives, we'd much rather try to subvert the system." All of this
seems
misleading, even if somehow it isn't. The appearance of shadiness is a problem. I don't know what to believe. I'm disappointed in NME.
All that said, since NME and Transgressive are eager to promote the label, and I think the vast majority of copies in the U.S. are off the shelves and all should be long-gone in the U.K. (heck if I know about elsewhere), I'm posting a lot of songs from the CD.
NME Presents: Transgressive Records

Track Listing:
1.
The Young Knives - Weekends and Bleak Days (Hot Summer)
(Available on
Voices of Animals And Men
) Why is this on a December compilation? See, NME, this is what happens when you turn over control to outsiders. I wonder if a Christmas song will appear in mid-January. It's madness!
2. Jeremy Warmsley - I Believe In The Way You Move
3.
Battle - Tendency
(Available on the mini-LP
Back to Earth
) Catchy, sure.
Whatever
, major label band.
4. Foals - The French Open (Demo)
5.
Ladyfuzz - Kerfuffle
(Available on
Kerfuffle
) Nifty patchwork of a song. With sing-song "Ba ba ba ba"s, twangy violins, lyrics about how "you know it's time to die"... and handclaps!
6. The Noisettes - IWE
7.
Polytechnic - PEP
A bit like The Go! Team. Fun and, well, peppy. With handclaps!
8.
Mechanical Bride - Poor Boy
Breathy, musing female vocals accompanied by piano.
9.
Johnny Flynn - Tickle Me Pink (Demo)
(Interesting lyrics...)
10. Regina Spektor - Carbon Monoxide
11.
The Subways - 1am (Transgressive Single Version)
(Available on
Transgressive Singles Collection: Volume 1
) Hey, another song about needing another heart - Flynn, needs one too. There might be more... This one clocks in at 1:52, possibly because they had little time to rock what with the need to search for that heart. Cute rock song.
12. Mystery Jets - Zoo Time (Transgressive Single Version)
13.
Burningpilot - Can't Kid A Kidder
(Available on
Transgressive Singles Collection: Volume 1
) Very 80s new wave reminiscent synthpop.
14.
The Young Knives - Kids In America
Good Simon and Garfunkel cover (kidding.).