The Organ Will Play No More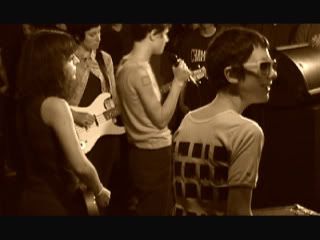 Canadian mope-rockers
The Organ
have called it quits after five years. They made the announcement yesterday on their website, saying simply: "We are sad to announce that we're breaking up. We want to thank our friends, fans, and family for all the support you gave to us. Thank you. Shelby, Jenny, Katie, Debora, and Shmoo."
The Organ's organist Jenny Smyth
spoke with CBC Radio 3 today
and declined to discuss the reasons for the breakup. "Basically, we're going to keep it all private; it's kind of a sensitive subject," Smyth said. She did say Katie Sketch having moved from Vancouver, where the rest of the group still lives, was not a factor. "There were seriously a lot of reasons," Smyth told Radio 3's Grant Lawrence. "It's something that didn't come easily, that's for sure." Smyth revealed that any new recordings The Organ may have will not be released.
The Organ - Basement Band Song
(available on
Grab That Gun
)