"Adopt A Codger" Music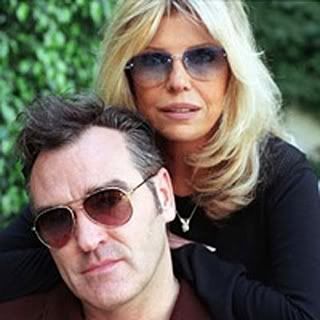 December's issue of
The Word
magazine lists over two dozen examples of music made as the result of "Adopt A Codger" partnerships. As
The Word
sees it, in these relationships, "starstruck pop youngsters reactivate a certified ledge" (i.e. a legend).
Some of the partnerships they mention make sense according to this definition, like Art Of Noise and Tom Jones' cover of Prince's "Kiss", which played a large part in propelling his career resurgence. Seemingly taking no chances, he's kept recording covers with other artists.
Space (Feat. Tom Jones) - Sunny Afternoon
(Kinks cover, available on
Greatest Hits
,
Reload
, etc.)
But some of the "codgers" were doing quite well pre-"adoption". If they didn't go away, how can they have a comeback? Conor Oberst didn't resurrect
Emmylou Harris
' career. Then again,
The Word
refers to their "2004 duet
This Is Nowhere And It's Now
" when Harris actually contributed vocals to three songs on
I'm Wide Awake, It's Morning
, none of which have that title (they are likely thinking of "We Are Nowhere And It's Now").
So I think
The Word
's list is a bit spotty, and it's not a full-fledged article so there's not much depth to it. If they really dug this codger music concept they could have gone for it a bit more. It might have been interesting to follow up each of the younger and elder artists and see how each of their careers are doing post-collaboration. Dead singers need not be excluded from that analysis. For instance, Forbes releases cheerful annual reports on the
top-earning dead celebrities
. (Sorry celebrities; when you shuffle off this mortal coil, you still won't escape the watchful eye of Forbes! Ever!)
Speaking of things you can't ever escape brings us to disco. The magazine mentions
"Relight My Fire"
, a 1993 cover of a Dan Hartman disco song that
Take That
recorded with
Lulu
. It was her first #1 song,
over 29 years after her first hit, "Shout"
(which reached #7). It certainly propelled her comeback.
Take That (Feat. Lulu) - Relight My Fire
(available on
Everything Changes
)
Not mentioned:
Shirley Bassey
's comeback on the heels of her 1998 collaboration with
Propellerheads
on "History Repeating". Propellerheads had planned a tour in support of their first album
Decksandrumsandrockandroll
(which includes "History Repeating"). Propellerhead Will White was suffering from an illness that required
surgery, two weeks in the hospital
, and a lengthy period of rest following the hospital stay. The illness forced the cancellation of the tour and took White temporarily out of the music game as he focused on his recovery.
Gifford relocated to the States, and White still lives in the U.K. They have tried to
work on a second album online
but White says that "really nothing beats being in the same space and the same room and being able to work on any music that we're feeling at that time." Fortunately, Gifford will soon be able to travel to the U.K. to work on, and ultimately record the album in a studio space in White's home. Last month White said "I'm getting to the point where I can almost start moving some studio equipment into the house." He has been renovating his house, a project that has taken some eight months.
Bassey's career got a big boost from the song. She's currently appearing in a Marks & Spencer ad, singing a Pink song. She has a new single out next month (you can listen to and order it now on
her website
. It's called "The Living Tree", which reminds me of
a tree who loved a little boy very much
.)
Propellerheads (Featuring Miss Shirley Bassey) - History Repeating
(available on
Decksandrumsandrockandroll
)
The magazine also doesn't mention
Nancy Sinatra
, who cleverly enlisted the help of several younger colleagues, including
Morrissey
, in writing and recording a new album. The single, "Let Me Kiss You", written by and sung with Morrissey, reached
#46 on the UK charts, and was her first hit in over 30 years
. This year, a Nancy Sinatra greatest hits album became her first album on the UK charts in 30 years (it reached #73). Morrissey is old enough to count as a co-codger, and this might be why Nancy Sinatra was left off the list.
Nancy Sinatra and Morrissey - Let Me Kiss You
(available on
Live At Earl's Court
)
Morrissey - Let Me Kiss You (Live)
(available on
Live At Earls Court
. The studio version is a single and available on
You Are The Quarry
)
The whippersnappers do also generally benefit from these collaborations, and sometimes more than the "legend". The implied approval of a respected elder may help them gain musical credibility in the industry, expand their fanbase (to include fans of other genres as well as older people), and win Grammys.
The magazine mentions Bono's duets with
Frank
Sinatra ("I've Got You Under My Skin") and Pavarotti ("Miss Sarajevo"), and U2's "When Love Comes To Town", recorded with BB King. The older singers in such cases stand to gain name recognition (and hopefully an appearance of being hip) with a younger audience. Bono's image (in his own mind too, granted) also surely gained from these recordings.
Only,
The Word
thinks codgerhood starts in the 30s, so Bono himself became a codger many years ago. The mag cites a few instances of "Codgers Who've Been Codgered Themselves", and includes the
Leftfield
/
John Lydon
song, "Open Up", released when Lydon was 37. While I can see some humor in this (it might seem less amusing if I was 37 or older than that), 37 really isn't codgerville.
Michael Stipe is 46. He gets a mention (as the non-codger) for
Patti Smith
's guest vocals on
R.E.M.
's "E-Bow The Letter", but what about his single this year with 29-year-old Chris Martin? He also sang on
Placebo
's "Broken Promise", from their latest album,
Meds
. It was released in many countries 9 days before the band's oldest member (drummer Steve Hewitt) turned 35, possibly entering codgerdom or a sort of gray zone. We just can't be sure.
Leftfield (Feat. John Lydon) - Open Up
(available on
Leftism
)
Placebo (Feat. Michael Stipe) - Broken Promise
(available on
Meds
)