Air Guitar and Rock Paper Scissors News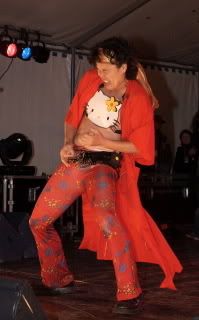 It's a feature-length documentary, but
Air Guitar Nation
could inspire people to buy those
air-guitar t-shirts
as well as an infomercial.
The United States was late to the air guitar championship party; as other countries' best air guitarists battled in the world championship, we sat on the sidelines. How embarrassing. Finally, the States really got in the game.
Air Guitar Nation
tells the story of that first year, and follows one American's quest to become the world champion.
The film won the audience awards at this year's Traverse City Film Festival and South by Southwest, and
Variety
called it
"often hilarious"
.
Air Guitar Nation
's broadcast is part of a
new series of VH1 Rock Docs
.
VH1
will begin showing most of the new documentaries early next year, with the exception of
The Return of Courtney Love
, which will first air December 16 at 9:00 PM. The documentary includes "unseen home movie footage of Cobain", and lots of Love talking about herself and Cobain.
The other programs in the series:
-
A.K.A. Tommy Chong
, which is about the drug paraphernalia sting operation that sent Tommy Chong to prison. It's won a slew of awards (audience awards, best documentary awards, jury award, and best feature) from the US Comedy Arts Festival, the Calgary Underground Film Festival, and the San Francisco Independent Film Festival.
- A two-part, two-hour film chronicling the burst of creative energy in 1977 that resulted in "the punk explosion". Also there was other music and sexual liberation and such.
- Bringing us to: A four-part, four-hour documentary on the sexual revolution. It's tentatively titled
Sex: The Revolution!
. Suggested alternative titles:
Sex! The Revolution!
,
The Sexual Revolution!!
, or
Sex! Now That We Have Your Attention, Please Watch Our Four-Part, Four-Hour Documentary!
.
In Rock Paper Scissors news, there's a new interview with RPS world champion
Bob "the Rock" Cooper
at the
WOW Report
. It's about 4:45 in, and I can reassure/disappoint you, there's nothing especially graphic in the clip, despite WOW's teaser. The clip is from
thisisaknife
, an English Internet program.
Cooper is campaigning for the title of BBC Sports Personality Of The Year, and has gained 500 signatures so far, according to the interview. Footage of his last few matches is up at YouTube, including
the last round
:
Elvis Costello - Watching The Detectives
(available on
My Aim Is True
, which came out in 1977)
The Ramones - Sheena Is A Punk Rocker
(available on
Rocket to Russia
, from 1977)
The B52's - Rock Lobster
(available on
The B52's
, which is from 1979, but the group
first recorded it in 1977
)