Slacker Aims at a Piece of the Pandora Pie, At Own Pace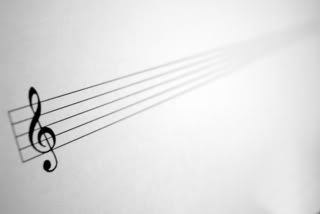 A new service for listening to music and getting music recommendations has begun Beta testing and hopes to establish itself as a portable alternative to
Pandora
. It's not portable or a strong threat to Pandora at the moment, but give them time... maybe a lot of it, given their name.
Slacker
? It doesn't inspire a lot of faith.
Maybe a few words
explaining the concept
of the service could instill some confidence in the Slackers... even given, say, their vague six-month window ("second half of 2007") for when satellite broadcast car kits will go on sale. (Car kits, personal players and the premium, ad-free service will cost ya. The basic service is free.)
Dennis Mudd, Slacker CEO says, "Personalized radio is a great way to listen to the music you love without having to work at it." Seems he thinks storing music in our computer is too much trouble... Yet he hopes we'll pay for the premium service so we can, among other things, save Slacker tracks to our computer. Clearly they realize having music in your computer is a convenience, not a burden. Eventually, they aim to charge people US$150-$299 for portable Slacker gadgets, a to-be-determined price for the car kits, and $7.50 a month for premium services.
Fortunately, I find listening to the music I love easy!
I tried Slacker anyway. They have many preset stations, such as: 80s, 90s, classic rock, hip-hop,
South by Southwest
, alternative, 90s alternative, and adult alternative (I was prepared to write "it turns out that doesn't mean smut", but what do you know, the first song included the word "fucking". It wasn't a very dirty song though). You can ban a song from a station and you won't hear it again, or click a heart if you love it, and the song will be played more often on the station. So you can try, for instance, to make adult alternative more "adult".
There's also an Indie station. I only played it for 5 songs; 2 were RIAA-safe according to
RIAA Radar
. I liked one a lot but already knew it ("At Conception" by Cursive; it's on
Happy Hollow
) and the other wasn't quite my thing; possibly I disliked it. That one I hadn't heard before ("Mojo" by Peeping Tom, on the album of the same name).
Slacker should delete the Indie station in its current state; it's misleading. Some of the music is from independent labels; some isn't. A real Independent Label station would be swell, and they say they have the rights to music from
"hundreds of independent labels"
. If they're using Indie to mean a genre, they're misusing the word in a different way. What does "indie music" sound like? Define the genre for me. They played songs from different genres.
Before I tried the preset stations I tried 3 custom stations, initially with 3 songs in mind. I found that Slacker, unlike Pandora, doesn't let you build a station around a song. They're very early in Beta testing, and hopefully will add that feature before long.
I thought a limited amount of songs in the Slacker library might account for only allowing artist-based stations but they say they have "millions of songs with the breadth and depth increasing continuously." Having the songs and programming your service to allow access to those songs are different things. I intentionally didn't choose any really obscure artists, though they're all RIAA-safe.
In fact the first artist,
Love and Rockets
, is one of those only sometimes RIAA-safe artists. After 6 songs, it looked like I was only getting recommendations for songs I already knew, that were released by members of the RIAA. Out of the 6, I was very impressed with 2 in terms of how well they fit the "mood" of the band. Another song I liked, but don't think of as Love and Rockets-ish. I like that when you first look up an artist it gives you a list of several related artists... For Love and Rockets, the list included Fields of the Nephilim, Sex Gang Children, The Bolshoi, and Peter Murphy (whose recordings on Beggars Banquet are RIAA-safe).
Love and Rockets - Haunted When the Minutes Drag
(on
Sorted! The Best of Love and Rockets
)
Peter Murphy - Cuts You Up
(on
Wild Birds 1985-1995: The Best of the Beggars Banquet Years
)
I next chose a
Stars
station, where I encountered a pair of tracks from 1 album and a pair from another, out of only 11 tracks. Later, trying a few channels by other artists, I ran into a frustrating amount of repeats. I like Belle and Sebastian already, enough already!
Slacker reckons if you like Stars, Belle and Sebastian's "We Are the Sleepyheads" and "Funny Little Frog" (both on
The Life Pursuit
) are right up your alley, and likewise Metric's "Monster Hospital" (on
Live It Out
). I wouldn't have pegged Metric as all that much like Stars but there is a certain similarity... Pandora would point to similar major key tonality and electric guitar riffs or some such thing. They also singled out Klee's "With You", which is an interesting German pop ballad, though I didn't find it similar to Stars. Slacker named Momus, The High Llamas and Club 8 as related artists.
Stars - Petit Mort
(B side on "Ageless Beauty" single)
On a Sebadoh station, during 16 songs there were repeat tracks from 3 artists. Plus, 4 out of the first 11 tracks were by Sebadoh!
Oh, for a box you could choose to check -- "don't play songs by my station's artist". Presumably, a lot of people are using the site as a music recommendation service, not to listen to songs by an artist they already know they like. (Really, storing Sebadoh songs on your computer and playing them isn't hard.) If you skip through that artist's songs, trying to get to songs you're not already familiar with, you're punished for it.
Edited: it's been noted in the comments that there is such an option. I'm glad of it; I think it's a big plus.
According to the terms of Slacker's licensing agreements with the record labels (Pandora says they have a similar contract), they're required to only allow users to skip a limited number of songs. You can still mute the songs, and multi-task elsewhere, or leave the site. Once you've decided you don't want to listen to a song, why should a corporate licensing agreement persuade you to change your mind?
The recommendations for Sebadoh move through gentle through bouncy toward rockier music, from Rogue Wave's "Publish My Love" (on
Descended Like Vultures
) to Pavement's classics "Cut Your Hair" and "Gold Soundz", both on "Crooked Rain, Crooked Rain", to Superchunk's "Punch Me Harder" (on
No Pocky For Kitty
). Iron & Wine's "My Lady's House" sneaks in there, too, though it's not a song I love. Artists on the "related artists list include: Pavement (they're really pushing Pavement), Neutral Milk Hotel, and (Smog).
There were a few good recommendations... some okay ones, and some weird ones. Ballads mixed with rock songs and such. There were a few bugs, which is to be expected. Occasionally the wrong artist's name would pop up before the correct name appeared; the site wouldn't work for me with Firefox. The list of related artists (with biographies) is my favorite feature, and the one I'd most like to see expanded. It's all essentially a form of advertising (is it one that would disappear with the premium plan?), but it was still fun to explore that portion of the site.
Sebadoh - Willing to Wait
(on
Harmacy
) The song I wanted to base the station on, a sad beauty.
Pavement - Cut Your Hair
(on
Crooked Rain, Crooked Rain
)
Iron & Wine - My Lady's House
(on the
Woman King
EP)
Sebadoh - Truly Great Thing
(on
III
) Recommended by Slacker; another well-written love song.