"How can I slip when there's no floor?" Practice?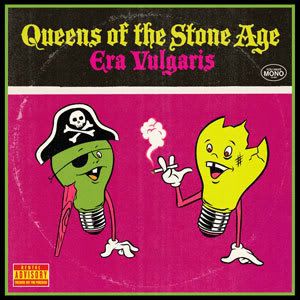 The Thrills - Saturday Night
(on
Let's Bottle Bohemia
) This has little-to-do nothing to do with lightbulbs
As you can see in the image above, there plainly
is
a floor in the
commercial
plugging Queens of the Stone Age's digital-download-only single "Sick Sick Sick":
.
The clip features two cartoon lightbulbs -- the star is "Bulby", who is broken, sassy, unkind, and smokes. A peglegged pirate lightbulb wearing an eyepatch makes a brief appeearance, as does a walking smiley character. At the end, Bulby falls. He asks, "How can I slip when there's no floor?" Yet both lightbulbs walk and lean on the floor. If there really wasn't a floor, I'd say ol' Bulby could still slip on it, just like cartoon characters keep running on the "ground" for a while after they've run past a cliff. Sometime after they look down and notice they're not on the ground anymore,
that's
when they're in trouble, and either fall, or if they can run fast enough, they can scurry back on the ground. Cartoons have different rules than reality.
It's a funny ad, but Bulby's cute antics and the video's flashing colors and lights can't disguise how ordinary the song is. It did provide decent background music for Bulby's antics. As counter-intuitive as it may sound, given the song's pounding beat, this track may serve as a sort of balm for times when this go-go world feels overwhelming. "Sick Sick Sick" has a very simple structure, uses simple rhymes, and is very repetitive. Also, at least in the portion played in the ad, there are no words with more than two syllables. Why, it's like a nursey rhyme set to music. Eh, it's okay, in that slightly-grating way, where you can't decide whether a song is annoying or not, but you know it will be at some point. I like these songs more:
Natural Calamity - As You Know (Dust Brothers Remix
(on
Peach Head
) Very highly recommended. I heard the regular version after the remix and was disappointed by how bloodless it sounded. Pretty vocals, no pulse. The Dust Brothers brought out the track's potential... brought it to life. I'm very fond of it.
Whale - Four Big Speakers
(on
All Disco Dance Must End In Broken Bones
) Yes,
that
Whale, the Swedish band of "Hobo Humpin' Slobo Babe" (80s-era, fleeting) fame. Check it out, they had other songs!!11!! The band split up, and everyone has moved on to separate careers. One former member (thank you Wikipedia),
Henrik Schyffert
, is now a comedian. He's posted some clips of his material on his
YouTube page
. I didn't laugh, but that might be because they weren't in English.
Imperial Teen - You're One
(on
Seasick
) Such a fun earworm.
Rufus McGovern - Burn
(on
Poor Man's Heart
) Beautiful vocals. The sort of track Brits seem to call "Americana". It's
almost
alt-country, maybe an "alt-country ballad" and mostly quite good.
Rocky Votolato - White Daisy Passing
(on
Makers
) Insert Elliott Smith comparison [HERE]. Dang, but this tugs at the old heartstrings.
Please slow it down
There's a secret magic past world
That you only notice when you're looking back at it
And all I wanna do is turn around
Poor guy. Here's
the video
for "White Daisy Passing", which doesn't have any talking lightbulbs: