Theremin Songs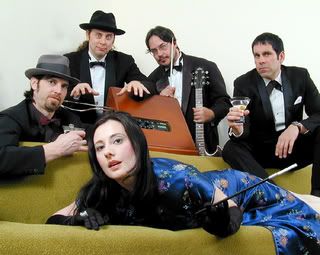 The Theremin is handy in that one doesn't touch it while playing it. That
doesn't
make it the instrument for everyone who's abandoned the triangle in frustration, tired of practicing for hours everyday and not getting any better. This weekend, I learned that the hard way.
Alright, I haven't really taken up the Theremin. But watching a 2004
Screen Savers

segment
in which Robert Moog demonstrated the instrument and introduced a cool performance by Thereminist Robby Virus of Theremin lounge band
Project: Pimento
(pictured above), I could almost hear people deciding to become Thereminists. Sure, for a few it's so they can introduce themselves as a Thereminist, but not for most.
A fascination with the instrument's workings likely plays a larger part. It uses radio frequency oscillators and two antennae (one for pitch and one for volume). The Therereminist moves their hands around the antennae without touching them. The more skilled the person, the better the sound.
Under the control of the most acclaimed Theremin player,
Clara Rockmore
(who was classically trained, on the violin), the instrument
sounds like a gentle song
. That instrument bears only a surface resemblance to the spooky uses it would later be put to in horror movies. It also doesn't sound much like the Theremin heard in some modern songs.
However, the "Theremin" heard in some songs isn't necessarily a Theremin. While the world does seem to have a fever, the only prescription may not be more Theremin. Many groups, such as
Stereolab
use, or have used,
Moog
synthesizers to
simulate the Theremin
sound.
Theremin World
maintains a small music store. However, the site also includes a huge list (down all afternoon, possibly vexed by the world's Theremin fever) of music supplied by website visitors, bound to be somewhat less reliable. It's still an impressive resource, but as always, buyer beware. (One questionable recording on the list:
Rooney
's "Blueside".)
A lot of groups have tricked people with their their trusty Moog. Both instruments are worthy in their own right; I gotta have more of both.
Robert Moog introduces the Theremin
(and discusses the Moog synthesizer!):
Another YouTube clip: the instrument's inventor, Léon Theremin, at the age of 95, giving a
Theremin lesson
, teaching the same song he taught Lenin:
Project: Pimento - Walk On By
(on
Space Age Love Songs
) Project: Pimento's website includes
several free MP3s
.
Bright Eyes - Gold Mine Gutted
(on
Digital Ashes in a Digital Urn
)
Soul Coughing - 4 Out Of 5
(on
Irresistible Bliss
)
Available at
Oldtemecula.com
: a Clara Rockmore MP3 and 7 MP3s of Radio Shack's Theremin.
Theremin Vox's site includes an
Audio Library
of Theremin and Theremin-related files.