Serving iPods with Dinner... If You Can Stomach It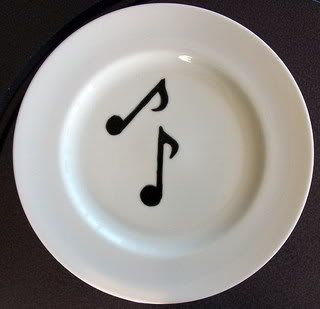 Chef Heston Blumenthal is also a cookbook author,
BBC2 television presenter
and hosts a Discovery Science show called
Kitchen Chemistry
, highlighting his affection for molecular gastronomy.
He apparently has a reputation for offbeat dishes, many of them using his scientific skills ("apparently" because I'd never heard of him, but then I live in California and have never supped in Berkshire.)
It's in Berkshire that Blumenthal is presenting diners with iPod shuffles along with one dish on his
tasting menu
. Pim describes
the food she was served
: "
sand
made of tapioca infused with miso, with medallions of Monkfish liver (Ankimo) in a
seawater
foam." Plus, assorted seafood, of course. Check out
Chez Pim
for photos and more about her dining experience.
The iPod shuffles, it should be noted, did not play pop or rock -- no "Eat It" or "I Eat Cannibals". No cheeky selections like Kate Bush's "I Eat Music", or songs by Phish or The Ocean Blue (this is making me want to do an ocean/water-themed playlist.) The iPod shuffles contained atmospheric ocean sounds (but imagine the potential for mischief if there's employee discontent!)
It's easy to build a case either for or against what Blumenthal's doing here. It's
been done before, in museums
, for instance. It may create a unique, fun, more multi-sensory experience, but also a more isolating one. Plus,
iPods damage hearing
. But Pim describes the music as "whispering", which doesn't make it seem that loud.
What really distresses me about Blumenthal's menu is the foie gras, highlighted by the name of the restaurant - The Fat Duck, which I don't see as funny or cute. I'm not going to post vivid descriptions or pictures to try to sway any minds, and I won't debate the topic. I will simply say that animals are abused very cruelly in order to make foie grois. The practice is already banned in the UK, but the sale isn't. That's ridiculous. If you live there, please sign this
petition to ban the sale of foie gras in the UK
.
Signatures are being accepted until May 5th.
Wherever you live, I hope you won't go to restaurants that serve foie gras or financially support restaurants that serve it, or chefs who prepare it, by selling any of their products. There are a lot of other cookbooks in the sea.