Cake's John McCrea on the meaning of life, Barack Obama, and sandwiches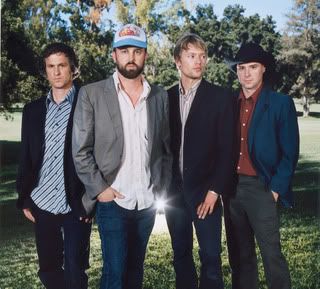 The forthcoming
Cake
compilation,
B-sides and rarities
, includes their George Jones cover, "Subtract One Love (Multiply the Heartaches)". There's something natural, almost poetic, about the combination of heartbreak, country music, and math. (And the wit adds a nice touch.) Many of the songs Cake covers blend the melancholy and the humorous, and the same is true of many of their own lyrics, which are written by frontman John McCrea.
I spoke with McCrea by phone Wednesday, and asked why he thinks this mixture is so potent.
"Isn't that what life is actually like?" he began. "There's never pure tragedy. There's always some strange mixture of elements. I think that's just sort of nature maintaining balance."
"Do you have to be sad to write sad lyrics?"
"Well, yeah, but I mean, everybody's sad," he said. "Everybody's got a lot happening inside of them. Can you be happy and sad at the same time? Yes."
He continued, with a shout-out to Buddhist philosphy, "Even in your most amazing moments in your life, you still, somewhere in your consciousness, have to be aware of your impending death. The happier you are, the sadder your death is."
For McCrea, "life is not about acquisition, it's about being at peace within. So I think it's okay to have a sad song that's going to connect you to the rest of the world in a way."
McCrea also connects with the world via his group's very active
website
. One of several frequently-updated areas on the site is the news section, which on any given day, may include a game or movie recommendation (the band likes Quiddler and Blades of Glory). A brief description and commentary often accompanies links to articles or YouTube clips. McCrea provides the site's political and environmental content.
Environmental topics are often mentioned, so it's no surprise that McCrea cites climate change as the first domestic policy issue he'd address if he was in a position of power. Specifically, he says would first "remove the unfair tariffs on Brazilian sugar-based ethanols." McCrea says he's "completely disappointed" Barack Obama voted to maintain the "protectionist" tariffs given how "serious" the issue is. Given that so few climatologists - a dozen out of thousands - dispute the role of humans in global warming, what could Obama's motive be other than "playing politics"?
Cake recorded Black Sabbath's anti-war anthem "War Pigs" for the new collection, leaving little doubt as to the band's stance on the Iraq War. ("Time will tell on their power minds, making war just for fun.")
A live version of the song, recorded with Steven Drozd of The Flaming Lips, is available on a
limited edition disc
(which comes with a scratch and sniff CD cover in one of these color/scent combinations: red/fresh-cut roses, yellow/banana, brown/leather, green/fresh-cut grass, or purple/grape). Pre-orders for the disc, which costs $10, are being accepted now. It's currently in production and is expected to be available at the end of the month.
Sample MP3s of all the songs on the disc can be downloaded at
Cake's website
. One of the tracks on
B-sides and Rarities
, "Short Skirt/Long Jacket", was a hit single, prompting the question: "'Short Skirt/Long Jacket': B-side or rarity?" He seemed taken aback by the query, and answered, "Neither!" then said the version on the disc is live, and was recorded in Australia. (There is no indication that the track is anything other than the studio version in the press materials or in their website store.) I told him that made it a rarity. "We're not liars!" said McCrea.
Something that isn't that rare is for McCrea to
speak out against file-sharing
. At a concert, he recently asked "since everyone feels music should be free, shouldn't other things in life, like sandwiches?"
He repeated the sandwich comparison when we spoke. He cited the cost of renting a studio and hiring musicians and said despite the expense, "I'm fine with music being free as long as we can be consistent and have sandwiches be free."
It's a faulty analogy in my book. I'm down with the Jeff Tweedy
"A piece of art is not a loaf of bread"
school of thought.
With a nod to Tweedy, I noted that a sandwich is gone when one person takes it, whereas thousands, even millions of people can take a piece of music and they haven't even changed it, let alone taken it away.
To McCrea, the difference is in the cost of labor. "What I'm saying, indirectly, is it's somewhat childish to make someone else's job free if you're not willing to do the same yourself," he said. "What you're doing is making one person's labor free and another person's labor valuable."
I told him musicians need to be supported.
"Well, musicians aren't being supported and no one gives a shit about them."
He said he "sees Jeff Tweedy's point" but he's concerned with boiling things down to a "more basic point". He's concerned about musicians being kept "desperate, and touring" an excessive, unhealthy amount. He's concerned about musicians not having health insurance.
I told him we're not on opposite ends, that I agree that touring is a harsh lifestyle, one that, as he's said, can lead to problems with addictions. We disagree on how to help musicians, on who's to blame.
I think it's unjust, and unhelpful to blame those who file-share (i.e., music fans) for musicians' economic struggles. Establishing a climate of hostility between musicians and music fans helps no one. Even
the President has MP3s ripped from CDs on his iPod
.
Artists, especially those who don't want to spend a lot of time touring, should think creatively when it comes to new sources of revenue. Addding value to traditional CDs with a bonus DVDs or bonus tracks or with clever packaging like Cake's 5 "collectible" scratch and sniff covers is a common avenue these days. Merchandising in general is often an underexploited source of revenue. Increasingly, artists are selling exclusive digital downloads and licensing their songs for use in advertising. Hopefully, more clever artists will succeed through innovation. They'll have the help of those nice people who
buy concert tickets, funding artists' sandwich purchases
.
Cake left (their most recent) major label but when we buy RIAA-member CDs, we help fund RIAA lawsuits. When the RIAA is
ordered to pay the attorney's fees of someone they sued
, they pay with our money. Meanwhile, the RIAA
thinks songwriters are overpaid
.
It's songwriting that McCrea's currently currently working on; Cake has been in the studio "a little bit" working on their next studio album, but he needs to finish writing the songs. He says there probably won't be any covers... "well, maybe one."
The band's also on a
tour
, supporting the
B-sides
album. Another album,
Cake Live At the Crystal Palace
, recorded in 2005 in Bakersfield, California's Crystal Palace, is set for a Fall 2007 release. Their next studio album is expected to be released sometime early next year. It may or may not contain a cover, but characteristic Cake instruments such as the vibraslap and trumpet, and that certain mixture of sorrow and wit that echoes life seem likely.
Cake's B-sides and rarities: Track Listing:
1. "War Pigs"
2. "Ruby, Don't Take Your Love to Town"
3. "Mahna Mahna"
4. "Excuse Me, I Think I've Got a Heartache"
5. "Conroy"
6. "Strangers in the Night"
7. "Subtract One Love (Multiply the Heartaches)"
8. "Never Never Gonna Give You Up"
9. "Thrills"
10. "Short Skirt/Long Jacket" (Live, recorded in Australia)
11. "It's Coming Down"
12. "War Pigs" (Live, featuring Steven Drozd, bonus track on limited edition)
Cake Shows:
5-11
Baltimore, MD - Pier Six Pavilion
5-12
River Front Park
5-25
Council Bluff, IA - Stir Cove
5-27
Sparks, NV - John Ascuaga's Nugget
6-02
Atlanta, GA - 99X Big Day Out
6-03
North Charleston, SC - The Plex Charleston
7-06
Brugge, Belgium - Cactus Festival
7-07
Evreaux, France - Le Rock Dans tous Ces Etats
7-08
Weert, Netherlands - Bospop Festival
7-10
Utrecth, Netherlands - Tivoli
7-12
London, England - Indigo2 Theater
7-13
Henham, England - Latitude Festival
7-15
Istanbul, Turkey - Massitval Festival