Top 10 Worst Song Lyrics: People Like Bad Rhymes/About As Much As Mimes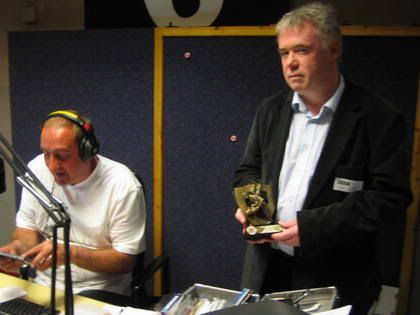 They say awards chosen by fans mean the most. Then again, this shadowy "they" is always saying
something
. "Breakfast is the most important meal of the day." "Never go to bed angry." "'I don't want to see a ghost/It's the sight that I fear most' is a bad lyric." Know-it-alls. How many hit records do
they
have?
Perhaps these sorts of bitter thoughts might comfort Des'ree, who today won a trophy for
writing the worst song lyrics of all time
for her 1998 tune "Life".
It was a hit, so maybe like terrible rhymes.
BBC 6
listeners like dissing them anyway, as they chose a lot of songs with questionable rhymes for their "top" 10 list of the worst lyrics. The shortlist was chosen from listener suggestions, taken by deejay Marc Riley, who also conducted the final poll. He counted the top 10 worst offenders on his show, which has been
archived online
.
Tenth-place finisher "War Pigs" by Black Sabbath pulls off the gutsy rhyming-a-word-with-itself move by rhyming "masses" with "masses".
Not all dishonored lyrics needed awful rhyming to stand out. Take Razorlight's 3rd place finisher "Somewhere Else", which strikes me as more underwhelming than truly horrible:
"And I met a girl
She asked me my name
I told her what it was"
But many of the songs contain amusingly bad rhymes... including the "winner", "Life", singled out for lyrics such as:
"I don't want to see a ghost,
It's the sight that I fear most,
I'd rather have a piece of toast,
Watch the evening news."
ABC's "That Was Then This Is Now" (4th place) contains the snazzy pairing of "grumble" with "apple crumble". Reached by phone during the program, ABC singer Martin Fry asked if this was going to be done every year, "because I'm writing songs every day and I think I can get to 3." He said he's mixing more ABC music today and that he'll have to write more about apple crumble. After being told what song came in first and hearing some of it, Fry said, "I'm gutted" at the realization that he can't compete with that.
Still, being a good sport, Fry agreed to give Des'ree her prize, the Taxing Lyrical trophy... should he see her. Deejay Marc Riley's friend Ian Morris, formerly of The Smirks, accepted the Taxing Lyrical trophy and duly promised to pass it on to Fry.
The Top 10 Worst Song Lyrics:
1. Des'ree - "Life"
2. Snap - "Rhythm Is A Dancer"
"I'm as serious as cancer when I say rhythm is a dancer"
3. Razorlight - "Somewhere Else'"
4.
ABC - "That Was Then But This Is Now"
"More sacrifices than an Aztec priest
Standing here straining at that leash
All fall down
Can't complain, mustn't grumble
Help yourself to another piece of apple crumble!"
5. U2 - "Elevation"
"I've got no self control
Been living like a mole now
Going down, excavation
High and high in the sky
You make me feel like I can fly
So high
Elevation"
6. Toto - "Africa"
"The wild dogs cry out in the night
As they grow restless longing for some solitary company
I know that I must do what's right
Sure as Kilimanjaro rises like Olympus above the Serengeti"
7. Oasis - "Champagne Supernova"
"Slowly walking down the hall
Faster than a cannonball
Where were you when we were getting high?"
8. Duran Duran - "Is There Something I Should Know?"
"And fiery demons all dance when you walk through that door
Don't say you're easy on me you're about as easy as a nuclear war"
9. Human League - "The Lebanon"
"Before he leaves the camp he stops
He scans the world outside
And where there used to be some shops
Is where the snipers sometimes hide"
10. Black Sabbath - "War Pigs"
"Generals gathered in their masses
Just like witches at black masses"