U.K. Gives U.S. Gnome Frenzy; Canada Acts Politely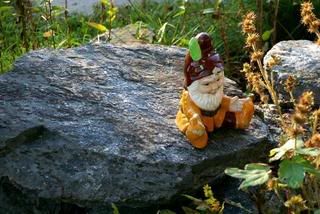 In the U.K., it seems gnomes can barely catch a break these days. They've been
banned from the Chelsea Flower Show
, deemed "rather gaudy". 67% of British people surveyed said a garden gnome on a property
gives a bad first impression
that would deter them from buying the place.
This is not to say that gnomes aren't respected in the U.K. Large crowds are turning up to a Beckenham house, where
40 painted gnomes are on display
, each flashing its backside.
Across the pond, we're not at the gnome-mooning stage. In the States, the
Detroit Home Press
encourages its readers to
"Bring home a gnome for the summertime"
, possibly leaving them to later wonder "Why can't I sell my house?"
The
Press
can always run articles with helpful tips to answer that question down the road. Why take a crack at solving a problem that doesn't exist? First they have to
create
the problem, silly! I predict one suggestion will involve buying something cinnamon-scented, like candles, from a
Press
sponsor. For now, the paper has endorsed a garden gnome sold at Target (though not the one pictured below).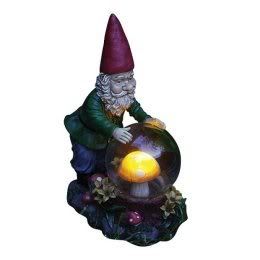 I don't know how many gnome items Target used to have but they now have a whopping 9 (1 more than 8!) It's a veritable frenzy. Where goes Target goes the nation? A solar-powered gnome is "Darling during the day, enchanting at night", and yet for some reason they chose to photograph their
solar-powered gnome
during twilight of the damned.
They even have
gnome sheets for kids
, which one reviewer raves "do not have any strange odors". Do her sheets usually have strange odors, or did she just expect them to smell like gnomes? (It should be noted that the sheets are filed under "blue" and boys' sheets" but not "kids", so they're not necessarily technically for kids. Use them on a girl's bed at your own risk. Gender confusion or sudden strange smells may result.
Meanwhile, Oregon State University agriculture sophomore Eric Dinsfriend attracts attention for
going barefoot and bearded
. More on point for our interests, Dinsfriend has also carved his own garden gnome.
His school newspaper makes it sound as though it might be the only one he's carved, so writing he
"carves garden gnomes"
makes me wonder whether gnome fever has spread to
US News & World Report
. (It's not their only mistake and it's a very short blurb. I think they must have a lot of gnome-related sponsors and/or the flu.)
Creating an increased demand for gnomes is a clever idea though. America has
taken a shine to gnomenappings
, and encouraging more people to buy gnomes, which, to their surprise, will only be stolen, is great for the economy. People might even replace their gnomes once or twice.
In Canada, when someone gnome-naps, they
announce their intentions, which include renovation
. Oh Canada, you're so adorable! You seem like the kind of country that wouldn't act like something smelled strange, even if it did. Whereas those Chelsea Flower Show people might act like something smelled strange, even if it didn't.
The Monkees - Teeny Tiny Gnome
(on
The Missing Links
)