Turncoat - "Wasted On You", "Between Classes"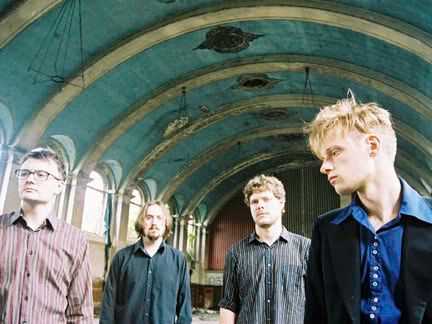 Brighton band
Turncoat
[Adrian Imms (lead vocals, guitar, and keyboard), Chaz Newman (guitar, keyboard, backing vocals), Luke Ellis (bass), and Alex Hobden (drums)] this week released "Wasted On You", the new single from the Regal Singles Club. It's a very catchy Britpop gem, rather like the 90s-era of Britpop, think Mighty Lemon Drops, Hurricane #1, and Inspiral Carpets. "Wasted On You" was released on a 7" limited edition vinyl. Sales of the vinyl are limited to 500 copies, but there are no limits on sales of the digital download.
You can hear "Wasted On You", and its B-side, "There Must Be Something" at the
Banquet Records website
. If you want to buy from an independent record store, Banquet's one option. The 7" vinyl is also available at
many other places
.
If "Wasted On You" is sunny cynicsm, "There Must Be Something" is hyper denial; the guitar feedback toward the end reinforces that. You can't hear someone's attempt to tell you
their
truth if you can't hear them. The music is more frenetic, the lyrics are harsher. It also sounds more modern than "Wasted", more in the "Interpol" family than the "Inspiral Carpets" family. (Not that there is technically an "Interpol family" as far as I know.)
You can also hear "Wasted On You" via the
video
:
Two Turncoat songs can be downloaded
for free
. Of these, breakup rock song "Between Classes" is the hit-in-waiting standout. It begins with the sound of a tape...rewinding? As in, "Let's go back to the start"? The first words mention going to the end...: "It seems like we've reached the end/There is nothing left to say or do." Imms sings plenty more, often quickly, accompanied by excellent rapid-fire guitarwork.
At one point Imms tells his ex, "Sometimes I think too much/But not enough/When all I needed was your touch/to stay."
...those are lovely and relatable lyrics.
Turncoat - Between Classes
(right-click to save)
A few Britpop videos that sound (and in some cases, look) like distant relations of "Wasted On You": the clip for
"Two Worlds Collide"
by Inspiral Carpets bears some stylistic similarities to the one for "Wasted". Fortunately, the younger band chose to pass on the time-honored shaky-hand-cam technique:
Hurricane #1's
Step Into My World
:
The Mighty Lemon Drops -
"Inside Out"
: