Grammatically Incorrect But So Much Stronger Than Us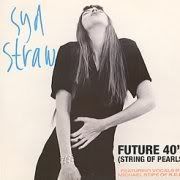 Something completely different feels necessary, to cleanse our minds and ears of all that
German manufactured cheesy bubble-pop
from the last post.
Sweet relief comes from a 1990 compilation album called
The Edge Of Rock
. I'm not sure how many of the tracks were on the edge of rock then, let alone now:
1. Camper Van Beethoven - "Pictures of Matchstick Men"
2. Lucinda Williams - "I Just Wanted to See You So Bad"
3. Dinosaur Jr - "Just Like Heaven"
4. Winter Hours - "Roadside Flowers"
5. Close Lobsters - "Lovely Little Swans"
6. Syd Straw - "Future 40's"
7. Mary's Danish - "Can I Have a Smoke, Dude?"
8. Meat Puppets - "Light"
9. The Lemonheads - "Luka"
10. Wire - "In Vivo"
The Camper Van Beethoven, Dinosaur Junior, and Lemonheads songs were much too popular to be merely on the
edge
of rock; the same probably goes for the one by Wire. They were major alternative (or as the kids called it "modern") rock hits, and that's not edgy, man. No way. My
grandma
listened to modern rock hits. Well, she might have... okay,
my
grandma probably didn't, but plenty of grandmas probably did. Camper was covering an old-timey hit; that's custom-made for cross-generational appeal.
My favorite track on the album is the breezy, tartly nostalgic one performed and co-written by
Syd Straw
and
REM
's Michael Stipe. On
Edge
, it's titled "Future 40's". On Straw's 1989 album,
Surprise
, the song is called "Future 40's (String of Pearls)".
I
was surprised when I found out about the different titles. I prefer "Future 40's", although I'd like it more without the possessive apostrophe.
Whatever it's called, it's a beautiful song. As usual, Stipe takes his "side" work no less seriously than his work with R.E.M. His vocals, somewhat more serious and emotional than Straw's, are more the song's heartbeat for me. I do love the way they harmonize together, and I love both of their performances on the song.
I was surprised again when I saw the cover art for the single. Yikes. There is a gigantic disconnect between the cover and Straw and Stipe's lovely song. They could have done better with that random flickr
CD cover art meme
, if they could figure their way around certain time-space barriers, seeing as how flickr wasn't around yet and such.
The
video
was a more pleasant surprise. Yes, I searched for it, by name. Still, I didn't expect to find it. The video
is
disappointingly Stipe-light. However, as the person who posted it points out, it's heavy on Athens scenery. Plus, Straw gets into retro-character in a "square", old-fashioned dress and apron as she bakes a pie and lip-syncs the song:
"Hey man I'm making moves
and I am so much stronger than you.
I am so much stronger,
I am so much stronger than you."
Syd Straw (Feat. Michael Stipe) - Future 40's (String ofPearls)
(on
The Edge of Rock
and
Surprise
)
During R.E.M.'s 1989
Green
tour, right before "I Believe", Stipe apparently often
sang lines from "Future 40's"
. So I'm guessing
this video
is from one of those concerts. (Note: the first lines are from a poem - possibly one Stipe wrote.)
Stipe's side projects are often so interesting and good. Perhaps once he's rested up from touring in support of (the excellent)
Accelerate
, he'll work on another one or two... Straw is
rumored to plan on releasing a CD
this year. And the future still looks more or less like the 40s. (Pastel refrigerators... that's 1950s, right? We're getting closer.)