Hold on to the Sun: a Partly Cloudy Playlist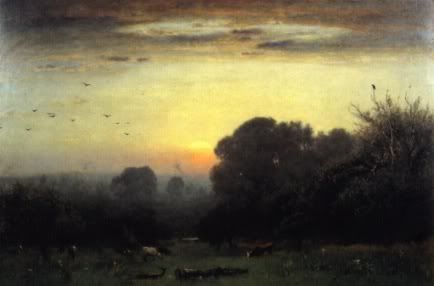 Happy
Record Store Day
! Maybe one or more of these songs will tempt a purchase in your favorite independent record store...
I've pondered making a three-playlist series: sunrise/daytime, sunset/evening, and late night. That's still possible, but "sunset" is
probably
getting voted off the island. So first up is the sunrise/daytime playlist, which swings from electronica to word jazz within three songs. Lyrically, those songs move from "I smell your sweat on my skin/Breakfast in Vegas on cocaine and gin" to to "When everything's orangey goofy like this, trouble's a joke/Just an orangey joke", separated by a song about "Lazyitis", and preceded by PJ Harvey's murder ballad, "A Perfect Day Elise". Hopefully, it transitions smoothly; it isn't meant as flippant. There are just so many stellar dark day songs... I also find it interesting that sunrise, daylight, daytime, and related concepts have that duality of sparking cheerful/hopeful songs and dark/sad songs.
While this playlist is "partly cloudy", if you'd prefer a cheerful-sunny playlist, you could easily omit the songs you don't care for and add some happier sunny tunes.
A few suggestions:
- The bonus track to this playlist:
Let's Active - Every Dog Has His Day
(on
Every Dog Has His Day
)
- Fountains of Wayne - "Radiation Vibe" (on
Fountains of Wayne
)
- Aqualung - "Brighter Than Sunshine" (on
Strange and Beautiful
)... mentions sunshine as a contrast, so it's not that sunny, but it's nonetheless beautiful [disclaimer: see origin of blog's name.]
- Estrume'n'tal - "Sol Si Do Si Mi Re La" - (on
Surfme'n'tal
and
War of the Surf Guitars
) ... "Sun" sneaks in the title, in a manner of speaking, in this Brazillian group's fizzy surf-punk-rock stomp. Shades of The Ramones, Shonen Knife, and The Ventures... and no wonder it's so much fun. It's also just over two minutes, in the Ramones spirit - get in, do a great song, get out... speaking of which, I'm getting out into the sun... so [/ado]
Hold on to the Sun:
1.
747s
- Missed That Sun (on
Zampano
)
2.
Joy Zipper
- Out Of The Sun (on
American Whip
)
3.
The Olivia Tremor Control
- A New Day (on
Black Foliage: Animation Music Volume One
)
4.
The Wailin' Jennys
- Beautiful Dawn (on
40 Days
)
5.
Drive-By Truckers
- Daylight (on
A Blessing and a Curse
)
6. The Webb Brothers - Some Velvet Morning (on
Total Lee! The Songs of Lee Hazlewood
)
7.
PJ Harvey
- A Perfect Day Elise (on
Is This Desire?
)
8.
Praga Khan
- Breakfast In Vegas (on
Twentyfirstcenturyskin
)
9.
Happy Mondays
- Lazyitis (on
Bummed
)
10.
Ken Nordine
- Orange (on
Colors
)
11.
Pernice Brothers
- There Goes The Sun (on
Discover a Lovelier You
)
12.
Amy LaVere
- Day Like Any (on
This World Is Not My Home
)
13.
Lori Carson
- Hold On to the Sun (on
The Finest Thing
)
14.
Langhorne Slim
- By The Time The Sun's Gone Down (on
When the Sun's Gone Down
)
Right-click to download songs: