Our House, the Musical with, Like, 20ish Madness Songs, Returning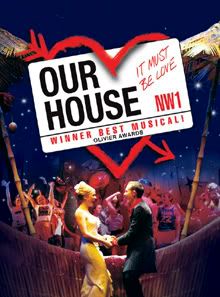 On May 29th,
Our House
, "the Madness musical", will open at the Birmingham Repertory Theatre for a month-long run, which proceeds a tour. The show was written by
Tim Firth
and features "over 20" Madness songs—hey, the guesstimate is a great sign! It means people are too busy engaged in tasks more directly tied to making the production a creative (and financial) success to spend time on a song tally.
For
Steve Brookstein
, the first winner of
The X Factor
,
Our House
includes the twin challenges of his first musical and the
"exciting new challenge"
of acting. His first role is one Madness frontman Suggs originated; he'll play the father of central character Joe Casey. Joe gets the big, sweeping love story; his dad gets the house.
The Suggs-enhanced version of the play
won the 2003 Laurence Olivier Award for Best New Musical
.
Among those "more than 20" songs in the show: "It Must Be Love", "My Girl", "House Of Fun", "Baggy Trousers", "Wings Of A Dove", "Driving In My Car", and, well, "Our House".
Perhaps now that you're reassured "Our House" is in the show, you wish to see it. FYI, you can
buy tickets online
. Ah, but so can other people. Local ones, even. If you want to see it on, say, opening night, don't assume that everyone else in England will be busy
throwing or rolling bread or cheese
. (Hey, "interesting" holidays, UK! You guys may not like the way we Americans spell, but at least our holidays are nettle-free.)
Madness - Girl Why Don't You
(on
The Dangermen Sessions Vol. 1
)