Monkey See, Monkey Do, Monkeys Listen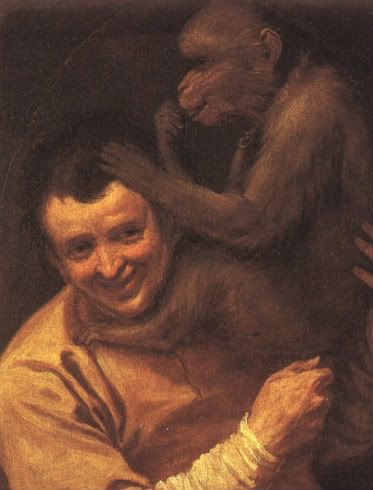 At long last, another playlist. Sorry it's "slightly" later-than-hoped-for; [stage whisper] training the new interns has been
a nightmare
. [/stage whisper].
As surely as you understand the
ahem
spring training issues we all endure, you know how it is when you first meet someone, and conversation soon naturally turns to monkeys and monkey-related topics. About two years ago, this happened with a bloke I met who, it turned out, was trying to collect as many monkey songs as possible, a worthy goal indeed.
While I wasn't by any means a monkey-song completist, I do love monkeys, and had collected a respectable amount of monkey songs. He and I later exchanged and compared lists of monkey songs. That's how I got the idea for this playlist, so I post it with approximately a barrelful of thanks to him. Plus, he told me about one of the songs posted here,
Ookla The Mok
's "Hockey Monkey" (also available at
their website
) so more thanks for that tip.
I'm still not a monkey-song completist, though compiling the tunes seems clever for all sorts of reasons. For one, it's a fun way to discover new artists. I reluctantly concede that this
might
be equally true when collecting non-monkey-related songs. Yesterday I found instrumental band
Forever Einstein
's "I'm Trying To Contain An Outbreak Here And You're Driving The Monkey To The Airport", from their 2005 album
Racket Science
, which is so full of awesome titles that the full track list merits posting though it's a tangent here:
Forever Einstein - Racket Science:
1. How Come The Wrong People Are Always In Charge?
2. You're Living In A World Of Make-Believe With Flowers And Bells And Leprechauns And Magic Frogs With Funny Little Hats
3. It's A Good Thing I Don't Have Super Brain Powers Or You'd Be In A Thousand Little Pieces Right Now
4. They're Portable, They're Annoying And They Cost Three Dollars A Case
5. I'm Trying To Contain An Outbreak Here And You're Driving The Monkey To The Airport
6. It's Almost Impossible To Concentrate In This Cafe With All These Leggy Belgian Girls Walking Around In Miniskirts
7. God Has A Plan For Me, And It Involves Puppets
8. I Wish I Had Me Some Of Them Miracle Smart Pills
9. I Got My Picture Taken, I Got Forty Dollars And I Get To Keep The Underwear
10. There's Some Milk In The Fridge That's About To Go Bad...And There It Goes
11. Every Word Out Of Your Mouth Is Like A Turd Falling In My Drink
12. He Looks Interesting-And By Interesting I Mean Weird
I might have found this album in the unlikely event that I was making a puppet playlist or one about airports or milk. How great are those titles? How many of the quotes can you place?
The audio sample of "Monkey" at Amazon is too short to get a great handle on it, but it sounds (possibly) mellow and Baja-flavored. The sample of "God Has A Plan For Me, And It Involves Puppets" at the band's website is much longer. God might be a fan of puppet shows at the ocean, judging by the song's clear surf-rock influences. "God" seems great, and a lot of fun. "God" might be good at parties.
Oodles of lists of playlists and playlist ideas are at varying stages of progress. More will be posted, sooner or later (probably interspersed with other kinds of posts.) This one was itching to be posted next; I'll just be happy to have the monkey off my back.
Monkey See, Monkey Do, Monkeys Listen - The Songs:
1. Artificial Joy Club - Cheeky Monkey (on
Melt
)
2. Cocteau Twins - The High-Monkey Monk (on
The Box Set
)
3. Fred Astaire & George Murphy - Don't Monkey With Broadway (on
A Time To Remember: 1940
)
4. Hawke - The Monkey's Wedding (on
Love Won Another
)
5. Jonathan Coulton - Code Monkey - one of his
"Thing A Week"
songs. See
JonathanCoulton.com
for more info, monkey merch., and/or music.
6. Lene Lovich - Monkey Talk (on
Flex... Plus
)
7. Ookla The Mok - Hockey Monkey - on
Smell No Evil
8. The Hollies - Mickey's Monkey (on
A's B's & EP's
)
9. Jad Fair & Yo La Tengo - Minnesota Man Claims Monkey Bowled Perfect Game (on
Strange But True
)
10. New York Dolls - Dance Like A Monkey (on
Strange But True
)
The songs have been posted via a new-to-me file host. Still using the last one; I wanted to add another source of free storage space that lets people direct-download.
Right-click to direct-download any of the songs and/or listen to 'em: