Yes, No, Maybe - An Indecision Playlist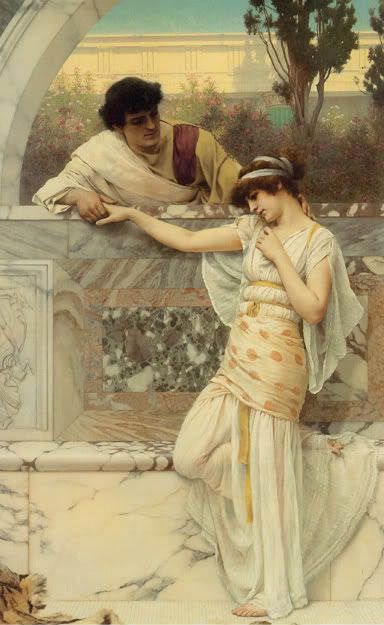 The mix of genres in this playlist might be considered pleasingly eclectic or a jumbled, odd mishmash. Let's compromise and call it a pleasingly odd mishmash. The idea was initially a playlist including songs with "yes", "no", and/or "maybe" in the title. It developed into an indecision playlist centered around romantic indecision. Alas, that shift left out some great yes/no/maybe songs that didn't really fit in, but I quite like how the playlist progressed, and the more expansive theme let in some wonderful songs.
Right away, I knew I wanted to use "Undecided" and "Shadow of a Doubt" to bookend the playlist. The songs essentially provided a beginning and ending for a sort of story. Some buzzy songs with faster tempos are good for providing a story with either a sense of rising action or a sense of confusion like that experienced when you're weighing a major romantic decision. (Might depend on how you feel about the songs in question.) Slower songs are good for either being moody and wistful or lusty. So, yeah, from monkeys to mishmash, why not?
Yes, No, Maybe - An Indecision Playlist:
1. Justin McRoberts - Undecided (on
Intersections
)
2. Radio 4 - Absolute Affirmation (on
Stealing of a Nation
)
3. Leona Naess - Yes, It's Called Desire (on
Leona Naess
)
4. Mogwai - Yes! I Am A Long Way From Home (on
Mogwai Young Team
)
5. Electrelane - If Not Now, When? (on
Axes
)
6. The Chords - Maybe Tomorrow (on
So Far Away
)
7. The Futureheads - Yes/No (on
News and Tributes
)
8. Mad Science Fair - No Room For Error (on
For a Better Tomorrow
)
9. Okkervil River - No Key, No Plan (on
Black Sheep Boy Appendix
)
10. Kate Rusby (with Roddy Woomble) - No Names (on
The Girl Who Couldn't Fly
)
11. Dolorean - Heather, Remind Me How This Ends (on
You Can't Win
)
12. Silent Gray - Could This Mean Maybe? (on
Insomniac's Dream
and
Cafe Bleu
. Yes, there's really no accent mark in "Cafe". Don't ask me why.)
13. Beth Orton - Shadow Of A Doubt (on
Comfort of Strangers
)
Right-click to download any of the songs:
Some info about the artists on the playlist:
Justin McRoberts
is currently touring in support of his new album,
Deconstruction
. See his website for
tour dates
from April to (at least) August.
Radio 4
plays The Knitting Factory in New York City on April 17th, with Young Lords opening. The first song from their forthcoming, free, digital-only EP is now available at
RCRD LBL
.
At the moment, Leona Naess' website is down Assuming she's not going on strike until someone fixes it or she can fix it herself, she'll probably perform as scheduled at her upcoming shows, which include an April 6th London show at Blue Flowers (at 7:30 PM) and a May 21st show at New York City's Cake Shop (at 10:30 PM).
Mogwai
is set to perform
Mogwai Young Team
(which includes "Yes, I Am A Long Way From Home") for the lucky crowd at the
Summercase
Festival this July. So far, they have a pair of shows scheduled before that: April 26th - 3:00 PM - Tramway in Glasgow and May 12th - 7:00 PM - Queen Elizabeth Hall in London.
On a much lighter band-schedule:
Electrelane
(who late last year announced an "indefinite hiatus") and
The Chords
(who were one of those old-timey groups from the olden days of barbershop quartets and mods who rode cute little scooters and spent a lot of money on shoes. I don't know how much money the barbershop quartets spent on their shoes or what their mode of transportation was. This
Chords website
has several free songs, but you might find yourself longing for some sort of extensive shoe photo-blog.
The Futureheads
new album,
This is Not the World
, will be released next month, as will its first single "Radio Heart". The band has announced a
May/June UK tour
.
Mad Science Fair and their record label, Parasol have made a couple of songs from their album
For A Better Tomorrow
(including "No Room For Error") available for
free download
.
Okkervil River's website has a front page that stubbornly refused to let me past, whether I used Firefox Beta or the dreaded IE. However, it will let me directly access their
news page
. They're on tour in the US... check out their news page for the details.
English folk singer
Kate Rusby
is in the midst of
extensive touring
in support of
Awkward Annie
, released last month.
To best support
Dolorean
, they ask that you buy their music
directly from them
, rather than from, say, their former label. Bandmember Jay Clarke has some kinda
artsy, intellectual blog
, FYI, if you're into that kinda thing.
Silent Gray is a mystery wrapped in an enigma... they might have changed their name, but I'm not sure.
Beth Orton
just... finished a US tour? Is it over now? Her website is ever-so devoid of information. She was touring through March, and now she isn't, as far as I know... Oh, let's just say "yes", her tour is over! (If she starts again, I'm calling it a new tour.)
~ The art at the top of the post is by John William Godward, and titled "Yes or No?"