Meet Meg: Art Brut + Pavement + Weezer x the Pixies?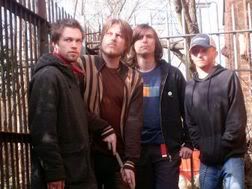 Meg
is an English band -- for the moment, an unsigned one. Meg is also the "beautiful, loyal(ish) black cat" of Rob Geraghty, Meg's guitarist and singer, and the inspiration for the band's name.
You can get an idea of their sound -- well, by downloading the mp3s below -- but also by checking out who the guys name as their favourite bands.
For Rob
, it's Gorky's Zygotic Mynci, Mr Bungle, Weezer, The Flaming Lips, Grandaddy, Super Furry Animals, Green Day, The Divine Comedy, Pavement, and a-ha.
Allan Thombs
, who plays bass and adds vocals, mentions the Pixies, among others.
Their songs immediately struck me as a bit Pavementesque. I hear dashes of Pixies and Weezer in there too. They also remind me a lot of
Art Brut
. Meg has been together for four years now, playing gigs in their hometown of
Kidderminster
and in other parts of England. Art Brut has only been together for slightly over two years, and
they have an album in the UK top 40, and they's promising "Some US news soon."
Where's the love for the Kidderminster boys?
I'm Gorky's-ignorant, other than being aware of their existence, so I don't know how much they may sound like Gorky's Zygotic Mynci. I do know there may not have been a Meg without a Gorky's. Rob met
Matt Pimm
(keyboards, guitar)
while chatting on a Gorky's site
, and that's how they came to form the group, with Tom Games (drums) and Allan Thombs joining a bit later. Yet another thing to praise or curse the Internet for: bringing people together to form bands.
It may have been their big break when producer Gavin Monaghan (John Peel Sessions/The Clash/Jesus & Mary Chain/Mercury Rev/Idlewild/The Smiths) of Magic Garden Studios
heard Meg, and liked them well enough to offer to produce a couple songs for them. He produced "A Song For" and "Patch."
They are both available "for a limited time" on
their website
and are being sold at gigs. Monaghan has also reportedly given them props on
Radio WM
. Time will tell whether all this will lead to a record deal. My guess is it will. Next up for Meg is a show August 5th at the Boundry Hotel's Wharf Bar in Walsall with The Fake Tracies, Joe Allen, & David Garside.

mp3:
Meg - A Song For
(I love this song. File under: Layered, fuzzy, quirky, power-pop)
mp3:
Meg - Patch
(Also good. Reminded me of Travis' "Flowers in the Window" at the beginning, but then it went in another direction. I like that it behaves unexpectedly)
mp3:
Art Brut - Good Weekend
(from Bang Bang Rock & Roll)