Her Space Holiday Gets "More Hopeful"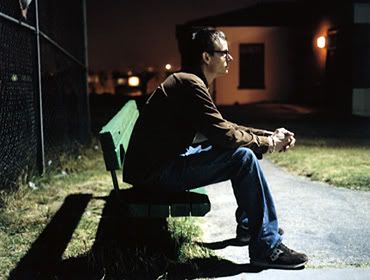 Her Space Holiday's upcoming album, The Past Presents The Future,
will be released on Sept. 27, and will contain a "more hopeful and expansive take on life" than previous albums
. Marc Bianchi (recording under the Her Space Holiday moniker) has put "both woodwinds and the occasional moment of distortion" to work to convey this new (comparatively) happy-go-lucky outlook of his. Why so chipper? Her Space Holiday will be playing at the
CMJ Music Marathon
in September... maybe he was already looking forward to that sort of thing when he wrote and recorded The Past Presents The Future... nah, that's flimsy. Well,
Monika Brodka recently won the Polish equivalent of a Grammy for debut single of the year for her cover of the Her Space Holiday song My Girlfriend's Boyfriend
, which is pretty cool. But I don't think the timing fits with the writing of the Her Space Holiday album.
Well, perhaps... no,
definitely
, his last full-length album, The Young Machines, was
"a purging of sorts... a way" for Marc "to confront some of the darkest sides" of his personality.
He probably wound up, circa October 8, 2004, deciding that
"in the end, I would think that the hope outweighs everything else."
Not all rainbows and sunshine, then. Just not quite as bleak. The change in direction doesn't depress me, though I could understand someone who really prefers their HSH music sad finding the change in direction a bit depressing. I'd like the guy to be happy, and think he'll likely make some great music whatever its tone. His music is generally quite heartfelt and emotional, and that can be maintained without his music feeling somber. I've been neglecting that part about the more "expansive take on life" which was also mentioned; that's vague but intriguing.
I rather like that darkness-purging The Young Machines, though, sure it doesn't provide a model of healthy, happy human behaviour. Wouldn't hand it to someone and say "live your life like this." Good music, though.
MP3:
Her Space Holiday - My Girlfriend's Boyfriend
(from
The Young Machines
)
mp3:
Her Space Holiday - Japanese Gum
(also from
The Young Machines
)
mp3:
Her Space Holiday - Tech Romance
(also from The Young Machines)
mp3:
Her Space Holiday - Our First Date
(originally from the Something Blue EP)