Spiritualized's Jason Pierce Heading Home After Long Hospital Stay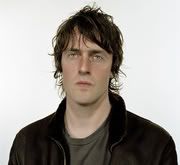 Spiritualized's Juliette Lewis confirmed today that bandmate and husband
Jason Pierce has recently been critically ill
. In a post on the
band's website
, Juliette wrote that Jason had "advanced periorbital cellulitis with bilateral pnuemonia with rapid deterioration requiring intensive care and c-pap for type 1 respiratory failure." Although he spent
a long time in intensive care and nearly died twice in the last two and a half weeks, she says he has "fantastically made an alarming and brilliant recovery and is due home today."
At the time he became ill, Pierce had been working on a new Spiritualized album. Juliette wrote that the songs
seemed to predict the illness. She wrote, "Not that he's into ESP and stuff, just in the most beautiful way."
mp3:
Spiritualized - Smiles
mp3:
Spiritualized - Ladies and Gentlemen We Are Floating in Space