Hard-Fi Arrives in the States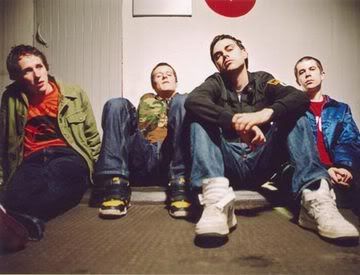 Fresh off their Mercury nomination,
Hard-Fi
has arrived in the States for the North American portion of
their tour
. It's mostly an American tour, but they do make a quick stop in Toronto for one show.
The nomination for
Stars Of CCTV
surprised the band -- a lot -- if they are to be believed... singer Richard Archer
claims "We thought, 'What, they give you an award for just playing the Mercury Lounge?' Then the penny dropped. 'Oh that Mercury Prize.'"
Archer's rather pleased with the nomination, particularly as it was not
recorded in "the poshest studios around" unlike Coldplay's album, also on the Mercury shortlist
. "It was all DIY," says Archer, "and here we are with a Mercury nomination, it's kind of crazy."
Odds are
, the Hard-Fi boys will not take home the Mercury. The nomination is a nice career boost, though.
mp3:
Hard-Fi - Stronger
mp3:
Hard-Fi - Living For the Weekend
mp3:
Hard-Fi - Hard To Beat
(I'm not on board with this one. Maybe it will grow on me, but it feels like there's some sort of boy band factor that I'm not down with. Also, the "Ooooh!"... I think there was a squealed "Ooooh!" at some point. And... no. Just please no. They don't need to do that)
Linkage:
Tied Up Too Tight video at Virgin.net
(in black & white... mainly the lads singing... interspersed with shots of cars zooming around. Lots of lights. That's about it. Nothing fancy. I like this song...).
Plus:
Hard To Beat video at Virgin.net
(warning: the colour, action, and plot of this one may be dizzying if you watch this video immediately after the previous video)
Also:
Hard-Fi XFM Radio Session
(They played Cash Machine, Middle Eastern Holiday, and Unnecessary Trouble)