New Minus the Bear -- some older songs too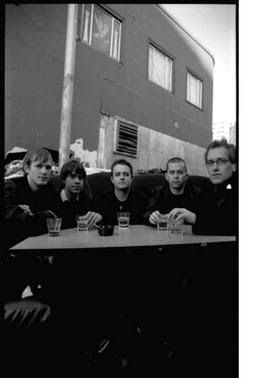 Minus the Bear
generally title their songs with a heavy dose of humour and weirdness. In doing so, they encourage people to not take them seriously, and probably discourage some people from even checking them out. A song like "I'm Totally Not Down With Rob's Alien" has much more depth and -- dare I say beauty? Yes. Yes I do. -- beauty than one might expect given the irreverant title. In the past, Minus the Bear has served up solid songs, though people disagree on whether they're punk-pop, pop-rock, indie, rock, or what-have-you. I'm not that familiar with the "what-have-you" subgenre, so I won't even go there. The label doesn't much matter and perhaps the lack of consensus is an indication of the music's complexity. The music will sometimes suddenly shift, from driving to pretty and sort of sweet (but not wimpy). A guy won't be embarrassed to own a CD with a track list featuring "Thanks for the Killer Game of Crisco Twister" right at the top; no one will know some of the songs are sort of lovely. Minus the Bear lyrics have traditionally featured plenty of smoking and drinking along with the sex, love, and angst common to much alt-music. Still... it's not emo, but there's an emo influence.
If you haven't heard them before, will you like Minus the Bear?
Music-Map
thinks you're more likely to if you like Elefant, 360s, Unbunny, Death Cab for Cutie, Modest Mouse, Built to Spill, Mars Volta, Simple Plan, Magnetic Fields, Mest, New Found Glory, Peaches, Turin Brakes, Neutral Milk Hotel, or... various other groups. Hmm. Don't know how helpful that may be.
Their forthcoming album
Menos el Oso (Minus the Bear)
will be released Aug. 23 in North America and should allegedly be
filed under "indie party rock," which at least in this case is mostly a good thing according to this MSNBC review
. It contains
fewer songs about drinking and girls
. I don't think the change of direction has hurt them (and they haven't lost all the references to drinking, but there are a lot fewer of them. This isn't a bad thing). I've heard almost all of the album -- still listening to it -- and I think it's quite strong. Sharing some of my favourite tracks. I also quite like "Drilling" and "The Fix." "Memphis & 53rd" is pretty good. "This Ain't a Surfin' Movie" didn't grab me as much as the others. At first I wondered if it was because it was slower than the others. Thought maybe it was at a bit of a disadvantage, because I got impatient for it to get going. Then it got going, then slowed down again... I liked a small part of it but it seems mish-mashed together, and not in a cool mash-up way. The whole doesn't work for me. Still diggin' the album though.
You can listen to three streaming tracks from Menos el Oso
here
. The songs are first single "Hooray," "The Fix," and "The Pig War." Streaming audio of "Pachuca Sunrise," "Hooray," and "Let's Play Clowns" is also available at
PureVolume.com
(only the first two are from the forthcoming album; Let's Play Clowns is from
They Make Beer Commercials Like This
).
From Menos el Oso:mp3:
Minus the Bear - El Torrente
Earlier Minus the Bear Tunes:mp3:
Minus the Bear - We Are Not A Football Team
(from Highly Refined Pirates)
mp3:
Minus the Bear - Hey Wanna Throw Up, Get Me Naked
(ditto)
mp3:
Minus the Bear - Get Me Naked 2: Electric Boogaloo
(ditto)
mp3:
Minus the Bear - I'm Totally Not Down With Rob's Alien
(from They Make Beer Commercials Like This)
Linkage:
Flickr photos from Minus the Bear
Tour Info:
Minus the Bear's tour schedule