More Big Star/Big Star Covers (The Posies, Jeff Buckley, Wilco)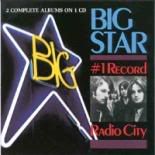 "...although they didn't sell squat in their day, just about every self-respecting rocker with good taste -- from Michael Stipe to Paul Westerberg to Matthew Sweet to Greg Dulli to, hell, *everybody* -- has genuflected in front of Big Star's three studio albums, regarding them as the awe-inspiring Holy Grail of power-pop that they are." - Jonathan Perry, Rolling Stone, 1998
mp3:
The Posies - Thirteen
(Big Star Cover)
mp3:
Wilco - Thirteen
(Big Star Cover, with thanks to Glenda)
mp3:
Big Star - Kanga Roo
mp3:
Jeff Buckley - Kanga Roo (live)
(Big Star Cover)
mp3:
Honeychild - Kanga Roo (live)
(Big Star Cover)
mp3:
Big Star - You Get What You Deserve
A sort-of-quick-and-dirty introduction to Big Star:
A lot of people these days know Big Star, thanks to a song of theirs being used as the theme for That '70s Show. Before that, a lot of people first heard of Alex Chilton thanks to the Replacements. By "a lot of people" I mean "me." I don't
know
that this is how I
first
heard of Alex Chilton, but it seems likely; it was around the time I was given Pleased to Meet Me that Chilton seemed to gradually enter my consciousness (and I think we all know how painful
that
can be). So Westerberg & Co. are likely responsible for this part of my rock education. I realized Chilton was an icon, Someone Important... but I didn't know quite why he was important. I just had a vague idea that he was a rock god of some kind. So I had to find out...
mp3:
The Replacements - Alex Chilton
When I was sixteen... oh, let's not go there. When Alex Chilton, was sixteen, he made hit records. Not Big Star records, not yet. Also, I said "hit" records. He sang for a group called
the Box Tops, finding commercial success but no creative freedom
.
mp3:
The Box Tops - Cry Like a Baby
mp3:
The Box Tops - The Letter
(you know this one. That's Alex Chilton?! Yeah)
So Alex and his childhood friend Chris Bell
formed a band
, with both sharing singing duties and writing most of the group's songs. Joining them were Andy Hummel on bass and Jody Stephens on drums and adding some vocals. An earlier group called
Ice Water (and before that, Rock City)
had consisted of Bell on vocals and guitar, along with Steve Ray on guitar, Andy Hummel on bass and Jody Stephens on drums.
The group released their first album, #1 Record, in 1972. It didn't do nearly as well as it deserved to falling victim to
distribution problems
, due to a new ownership of the band's record label. Chilton and Bell reportedly
disagreed over the direction of the band, with Bell preferring to record, and Chilton favouring performing live
. Bell was allegedly
despondent, even suicidal, over the album's "failure."
He left Big Star in late '72, though he did some work on the follow-up. He embarked on a solo career, but eventually left music behind and
took a management position in his family's fast food business
. He died in a car crash in 1978. In 1992, much of his previously-unreleased work was released, to great acclaim.
Big Star, meanwhile
had continued to experience massive distribution problems with their next album, Radio City
. This greatly frustrated Chilton. His songs grew bleaker. Big Star seemed destined to be a "cult" band. Not that there's anything wrong with that. For one thing, those bands tend to be great. For another, they generally wind up with a lot of fans who form bands/become musicians, in Big Star's case bands and artists like The Replacements, REM, Teenage Fanclub, Nada Surf, The Church, Kristin Hersh, Wilco, garbage, and Elliott Smith, all of whom have covered at least one song by the group.
Big Star had a reunion in the early 90s with a half-Posies lineup -- Chilton and Stephens were joined by Jonathan Auer and Ken Stringfellow for concerts and a live album. The same lineup has now produced a
new album
, which is due out Aug. 30. Early word is that
Chilton sings on six of the songs; Jonathan and Ken each sing on some of the others
. Some songs are said to be reminiscent of the sound of each previous studio album.
I previously
posted the track "Dony"
which is from the new album, and at least
"soundbites"
from more songs should be available soon.
Thanks to Glenda for inspiring the post...
I'm working on something pretty cool for the hat (not that every post isn't cool!) so I may not post anything very wordy for a bit (Famous last words... but... I... mean... it!)
Update:
Shaking My Fist
at Amy for making me realize I should have included this in the first place... here is a cover of a song Alex Chilton first sang as a teen, with the Box Tops.
mp3:
Big Star - The Letter (live)