The Battle of Brit Pop: Blur vs. Oasis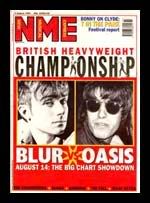 Ten years ago tomorrow,
Oasis
and
Blur
faced off in
The Battle of Britpop
. Oasis' single "Roll with It" and Blur's "Country House" went head to head and whichever single won was supposed to determine which band was truly the biggest band in Britain. The rivalry between the bands was intense and personal, thus intensifying the pressure on the poor little songs. In the latest issue of
NME
there's an article about "Blur vs. Oasis" and they have a separate issue dedicated to the Brit Pop anniversary as well ("Britpop" - looking back at the whole Britpop era actually; there's a blurb about it the regular NME, which I bought. I passed on the BritPop issue).
Summing up a bit from the article:
The original plan apparently was for the bands' albums to be released about a month apart, with Blur going first. At some point, though, Blur realized Oasis planned to release a
single
first. Sneaky! Blur felt this would interfere with their momentum and met with their label to decide what to do. They chose to change the release date to go for a head-to-head fight.
Blur was pretty quiet at this time, but Oasis did more than their share of trash-talking. Not that the Gallagher boys have ever been quiet, but according to NME Noel was on "a daily cocaine diet" at this time. One choice Noel quote about the battle: "Blur are middle-class wankers trying to play hard ball with a bunch of working class heroes. There can only be one winner."
Blur had helped keep the rivalry going before this, though. NME says Albarn would hit on Liam Gallagher's girlfriend at parties (meanwhile Liam would tell the press he was going to "shag" Albarn's girlfriend). Plenty of name-calling and confrontations, and maybe it helped both of the bands' careers (and possibly annoyed many bandmembers' girlfriends).
Ricky Wilson of the Kaiser Chiefs says in NME, "We were all obsessed by the chart battle - naturally we were on Blur's side. When 'The Great Escape' came out I remember just wanting to make an album that sounded
that
perfect."
Andy Burrows of Razorlight says, "I love Oasis, but when I was 14, I was totally on Blur's side. It was more exciting to side up, wasn't it?"
On August 20,
Blur was revealed as the as the winner, Oasis complained about a barcode problem
, and it seemed as though the battle was over. Really, "Country House" sold 270,000 copies to 220,000 copies of "Roll With It" and "Country House" was available in more formats, according to the NME article. That's not such a huge margin, considering that... well, Oasis had been acting so obnoxiously, and that, well, "Roll With It" isn't that great. It's hardly the best song on (What's The Story) Morning Glory? and I think it was an odd choice as first single.
Still, while Blur won the battle, perhaps Oasis has won the war. Hold on, let me look at that cliche and nod smugly for a moment. So Damon Albarn had to
become a cartoon
to make it in America, Blur's Graham Coxon started making solo albums and it's unclear whether he might return to the band, but Albarn said he's waiting for Coxon to return before they can make another album. Then last month bassist Alex James said
the band members are suing each-other
.
Oasis may not have become as big in the States as they are in the UK, but they're doing alright... and they have managed to influence at least one popular American band, The Killers, who formed after drummer Dave Keuning
ran an ad seeking bandmates who shared his "love for Oasis".
The Killers' singer Brandon Flowers says the group has written
"our Oasis rip-off song" which will appear on their next album.
Flowers says, "It could rescue their [Oasis'] career. It's about talking to yourself and figuring out life's big problems on your own." I'm sure Oasis appreciated that jibe about their career. Those guys have a great sense of humour when it comes to things like that!
Some Brit Tuneage:
mp3:
Blur - Country House
(from The Great Escape and Blur: The Best Of)
mp3:
Blur - Charmless Man
(from The Great Escape and Blur: The Best Of)
mp3:
Blur - Good Song
(from Think Tank)
mp3:
Oasis - Roll With It
(from (What's The Story) Morning Glory?)
mp3:
Oasis - Don't Look Back In Anger
(from (What's The Story) Morning Glory?)
mp3:
Ash - Girl from Mars
(from 1977)
mp3:
Mitch Benn and the Distractions - Everything Sounds Like Coldplay Now
(by request)
mp3:
Kaiser Chiefs - Everyday I Love You Less and Less
(from Employment)
mp3:
The Futureheads - Meantime
(from The Futureheads)