The Magic Numbers Take a Stand... by Walking Out On TV Show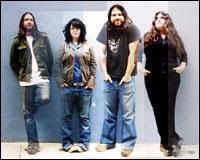 Mercury nominees
The Magic Numbers
walked out on UK show Top of the Pops
after host Richard Bacon, apparently having gained no sensitivity from growing up with the name Richard Bacon,
made a fat joke about the band when introducing them during rehearsals
.
The band issued this statement
on their website
:
WE WOULD LIKE TO APOLOGISE TO ANYONE WHO WAS DISAPPOINTED BY OUR NON-APPEARANCE ON TOTP ON SUNDAY. (BELIEVE US WE WERE DISAPPOINTED TOO).

DUE TO DEROGATORY, UNFUNNY REMARKS MADE DURING THE GUEST PRESENTER'S INTRODUCTION TO OUR PERFORMANCE, WE FELT WE HAD TO MAKE A STAND AND LEAVE.

IT WAS AN IMPORTANT DAY FOR US AND SHOULD HAVE BEEN SPECIAL. WE DIDN'T TAKE THIS DECISION LIGHTLY BUT WE STAND BY IT.

ROMEO, MICHELE, ANGELA AND SEAN.
I think they owe more of an apology for the all caps than for leaving the Top of the Pops studio. The host's
joke
was, "What do you get when you put two brothers and two sisters in a band? A big fat melting pot."
A BBC spokesperson claimed Bacon used the word fat
as a "figure of speech referring to the band's status."
He added that "It was absolutely in no way referring the appearance of any of the band members." The spokesperson described Bacon as "mortified about the misunderstanding and any offence caused" and said he tried to apologize but "their management denied him access to the band".
I find those remarks disingenuous. It seems more likely that Bacon made a nasty, obviously unprofessional cheap shot and doesn't want to own up to it. I loathe the "I'm sorry
you
took offense" non-apology. He
should
be sorry for what he said, not merely that the band took offense at being called fat, or for anything their management did.
What does their weight have to do with anything, anyway? This is music. I know it's a more visual medium these days, what with videos and other music programming. That doesn't mean the goal should be to place as much emphasis as possible on the physical appearance of the artists. Music is still primarily an auditory medium, and that's where the focus belongs.
Romeo Stodart said in an interview in this week's
NME
that
"I think it gets to the girls a bit" when comments are made about weight, though he acknowledged that "I suppose that comes with the territory."
It's unfortunate it should have to, but it's true that some of that is inevitable. They don't have to accept it from a host when they're a guest on his show. I think they did the right thing by leaving.
mp3:
The Magic Numbers - I See You, You See Me
(from
The Magic Numbers
)
Streaming audio of The Magic Numbers' album
(but it requires registration/personal info, hmph)
If you can handle the appearance of The Magic Numbers (and like videos):
The Magic Numbers - "Hymn For Her" video
The Magic Numbers - "Forever Lost" video
The Magic Numbers - "Love Me Like You" video