This Post is Not Titled Sister Christian: Best Week Ever Live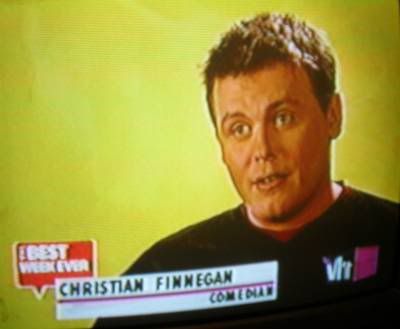 I'm fond of VH1's
Best Week Ever
, but the show has been testing my affection lately. A couple recent episodes seemed a trifle weak, but no one's always at the top of their game. Last week's announcement of an extended vacation was a bit much. Apparently producing about 22 minutes of comedy every week is pretty grueling, though, because they go on vacations a lot. I don't know how many minutes a week
you
can make people laugh without resorting to tickling -- an option not available to Vh1 with current technology -- but it must be difficult. I figured the Best Week Ever gang must
need
a few weeks of vacation every three months or so to take a humour break, and not be "on." Recharge their comic batteries, maybe visit their parents and remember why they hate them.
So it was a bit of a surprise when I had to find out on the streets -- and by "the streets" I mean "the Internet" -- that the vacation announcement was a tad misleading. Many of the folks from the Best Week Ever crew have hit the road for some live gigs, creatively titled Best Week Ever Live. Hmm, maybe their creative juices
have
run dry.
They had a few shows in NY and have two scheduled for next week at
the Upright Citizens Brigade Theatre
in LA.
The two shows:
Monday, August 15, 8 PM: Paul Scheer, Doug Benson, Danielle Schneider and Paul F. Tompkins
Wednesday, August 17, 11 PM: Sheer, Schneider, Christian Finnegan and Greg Fitzsimmons
Very cool lineups and I'm sure both shows will delight and enchant audiences young and old (possibly some folks aged somewhere in between as well). And yet... I would have to go to a weeknight 11 PM show to see
Christian Finnegan
?! And now I "have" to gripe about it and look extremely whiny, when approximately 48 states,
America Junior
, and the vast majority of the world is nowhere near Best Week Ever Live goodness? I should hang my hand in shame, as I don't want to be so spoiled that I can't appreciate something cool and figure out a way to grin and bear a (very) inconvenient timeslot. Only, I have to hang my head a bit anyway. The sun is glaring in through the windows, and it's rather bright -- yes, yet
another
sunny day! It's rather tedious, and -- oh, nevermind...
Anyway, as long as I'm complaining, I also wish Michael Colton and John Aboud, Sherrod Small, Rob Huebel, and Rachael Harris were participating in one of these shindigs (preferably an 8 PM one!), which actually makes the thought of missing out on Best Week Ever Live easier. I'm not all about the Christian love. (Or something like that) On the other hand, a lineup without Kennedy is like a sunny day without cancer-causing rays or smog.
updated to note that while I was writing this post, the 8 PM show sold out. If some people who make reservations don't show up, others may be able to get in, but of course, ya can't count on that...
mp3:
Juliana Hatfield - Say It Ain't So (live)
mp3:
Night Ranger - Sister Christian
(from
Midnight Madness
,
Night Ranger's Greatest Hits
, the Boogie Nights soundtrack, etc.)
mp3:
The Pretenders - Don't Get Me Wrong
(from
Get Close
,
The Pretenders - Greatest Hits
, etc.)
mp3:
Radiohead - I might be wrong
(from
Amnesiac
)
mp3:
The Rolling Stones - Time Is On My Side
(from
12 X 5
, box sets such as
Singles Collection: The London Years
, etc.)
mp3:
Joe Jackson - Got the Time
(from
Look Sharp!
,
Steppin' Out/Very Best of Joe Jackson
, etc.)
mp3:
Crystal Method - Busy Child
(from
Vegas
)
mp3:
Evermore - It's Too Late
(released as a CD single, also on the import album
Dreams
, and on at least the Australian version of
Music from the O.C. Mix 2
. If it was on the OC, it's likely a good exaggerated angst song)