Word of Mouth Magazine: August CD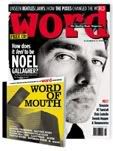 (Sept. issue pictured)
The latest issue of
Word of Mouth
includes a CD. This not unusual; they all do. Every Word of Mouth CD doesn't contain a cover of "Le Freak" performed by The Ukulele Orchestra of Great Britain though, now, does it?
I mean, I really like the Joy Zipper song, there's a lovely instrumental from Daniel Lanois, a Fountains of Wayne song (rarely a bad thing), Madness... Luke Haines & the Auteurs... lots of different kinds of sounds here. It's just hard to get past that "Le Freak" right now.
Track Listing:
1. Joseph Arthur - Wasted
2.
mp3:
Madness - Girl, Why Don't You?
3. Karine Polwart - Only One Way
4.
mp3:
Joy Zipper - Thought's A Waste of Time
5. Leela James - Long Time Coming
6. Shelby Lynne - Where Am I Now
7. Sweetblood - Head of Indra
8.
mp3:
Fountains of Wayne - Trains and Boats and Planes
9.
mp3:
The Ukulele Orchestra of Great Britain - Le Freak
(Oh my God)
10. The Shortwave Set - Repeat to Fade
11.
mp3:
Daniel Lanois - Agave
12.
mp3:
Luke Haines & the Auteurs - Bugger Bognor (Alternate Mix)