Friday On My Mind: Friday Songs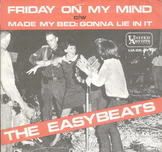 Friday's child
"is loving and giving."
I wonder if a statistically disproportionate number of music bloggers were born on Friday. I should do a study...
Friday
was of course named for that lovable scamp
Fry
from the television program
Futurama
. How he earned this honour I don't know but I asume it involved some sort of wacky time-traveling misadventure. I'm not surprised that it isn't spelled Fryday because spellings often change through the years. I
am
a tad puzzled as to why
Wikipedia gives the credit to some love goddess named Frige
. They expect us to believe that at some point people might have said, "Thank God it's Frigeday" (oh, okay,
Frigedaeg
) without smirking? Whatever, Wikipedia. Incidentally, if this was somehow once true, it abbreviates to the same name of a restaurant chain I don't go to that features
"standard American cuisine, bar food, and alcoholic beverages."
Sounds delightful, and I do feel as though I may be missing out, but you can't have everything.
Lastly, pre-music, if you don't know what kind of child you are, you can quickly find out
here
and find out the alleged meaning
here
.
And now, on to the music... a fairly eclectic mix today...
Friday Music:mp3:
The Replacements - Love You Till Friday
(from Sorry Ma, Forgot to Take Out The Trash)
mp3:
Flogging Molly - Black Friday Rule
(from Swagger)
mp3:
The Darkness - Friday Night
(from Permission to Land)
mp3:
Allister - Friday Night
(from Dead Ends and Girlfriends)
mp3:
The Professionals - Friday Night Square
(from I Didn't See It Coming)
mp3:
Larry Carlton - Friday Night Shuffle
(from Sapphire Blue)
mp3:
Daniel Bedingfield - Friday
(from Gotta Get Thru This)
mp3:
Doves - Friday's Dust
(from The Last Broadcast)
And now for a few covers of Friday songs, along with the original versions
...
The Covers:mp3:
David Bowie - Friday On My Mind
(from Pin Ups)
mp3:
Tages - Friday On My Mind
(from the U.K. album In My Dreams)
mp3:
The Dukes - Friday On My Mind
(appears to be out of print, though it is on an interesting-looking, although also out of print -- at least in the U.S. -- box set of Dutch music called Nederbeat 63-69. 1963-69 was apparently "the golden era of Dutch pop music.")
The Originalmp3:
The Easybeats - Friday On My Mind
(from The Very Best of The Easybeats)
More Coversmp3:
Death Cab for Cutie - Friday I'm In Love
(live)
mp3:
Dryden Mitchell- Friday I'm In Love
(from the 50 First Dates soundtrack. *Link fixed. Sorry about that!*)
Not The Original, Yet Not A Cover Either, Followed By the Originalmp3:
The Cure - Friday I'm In Love (live, MTV Unplugged)
mp3:
The Cure - Friday I'm In Love
(from Galore)