The Police's "Synchronicity" Coming to DVD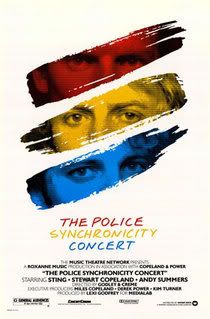 "Universal Music are pleased to announce the Monday September 5th 2005 DVD premiere release of 'The Police - Synchronicity Concert.'"
I believe them. They're so excited that they rushed their press release out without proofreading it! Guys, psst... The song is
"O My God"
, not "Oh My God." It's not a "slip of the finger" typo; they spelled it that way twice.
Ah, well. No one's perfect. Maybe they wanted to see whether, say,
Billboard.com
would catch their mistake (no). Anyway, no, I wouldn't want someone to call me out for a mistake, but the important thing to remember is: this time, it isn't me who made a mistake. So it's very different!
That Sept. 5 release date
is just for the U.K., incidentally. The DVD will be set loose for those of us in North America sometime after that, likely not long afterward, at least according to... Billboard
.
The
Synchronicity Concert
video taped in November 1983 in Atlanta has long been available on VHS, but will now be available for the first time on DVD, with
remixed 5.1 Surround Sound, a rare 1984 band interview, "never-before-seen" (surely they mean "by the public") 1983 performances of "Demolition Man" and "Murder by Numbers" and bells and whistles like multi-angle performances of some songs
.
Track Listing for the Synchronicity Concert:
1. Intro
2. "Synchronicity I"
3. "Walking in Your Footsteps"
4. "Message in a Bottle"
5. "Walking on the Moon"
6. "Wrapped Around Your Finger"
7. "Hole in My Life"
8. "King of Pain"
9. "One World"
10. "Tea in the Sahara"
11. "O My God"
12. "De Do Do Do De Da Da Da"
13. "Every Breath You Take"
14. "Can't Stand Losing You"
15. "Spirits in the Material World"
16. "So Lonely"
Bonus Features:
Original Theatrical Trailer
"More Police":
- Synchronicity Concert multi-angle tracks
- Synchronicity Concert - Montreal (1983) bonus tracks
- Demolition Man
- Murder by Numbers
- Interview In Melbourne, Australia 1984 ("very last Police show")
- Synchronicity II
- Roxanne
- Invisible Sun
- Don't Stand So Close To Me
mp3:
The Police - Message in a Bottle (live)
(from Message in a Box: The Complete Recordings, recorded in 1980, time/place unknown)
mp3:
The Police - Walking on the Moon
(ditto except it's an album version, also from Reggatta De Blanc)
mp3:
The Police - Tea In The Sahara (live)
(also from (from Message in a Box, recorded in Atlanta on 03-11-1983)
mp3:
The Police - O My God
(album version, on 'Message' and Synchronicity)
mp3:
The Police - Can't Stand Losing You
(album version, on 'Message' and Outlandos d'Amour)
mp3:
Juliana Hatfield - Every Breath You Take
(from Beautiful Creature)
mp3:
Tori Amos & Bjork - Wrapped Around Your Finger (live)