Sweet Thursday: Thursday Songs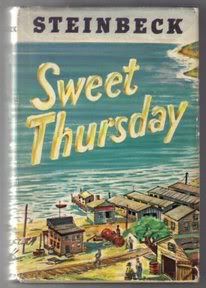 Happy Thursday! Or, should I say Happy
Punresdaeg? Happy Day of Thor?
Nah, let's stick with Thursday.
The blurb for John Steinbeck's
Sweet Thursday
includes the following explanation of the title:
"In Monterey, on the California coast, Sweet Thursday is what they call the day after Lousy Wednesday, which is one of those days that is just naturally bad."
A lousy day in Monterey? That's hard to envision, and I don't lack imagination. The city must have come a long way since then. There's no apparent connection between the Steinbeck novel and the Pizzicato Five song. It's
possible
the song is linked to Monterey. It mentions Main Street and Monterey does indeed have a Main Street. Then again, so does Disneyland.
Rather early on in
The Hitchhiker's Guide to the Galaxy
by
Douglas Adams
, Arthur Dent comments,
"This must be Thursday. I never could get the hang of Thursdays."
My username is from Hitchhiker's -- trill is short for Trillian (which is short for Tricia McMillian). 42 is the answer to life, the universe, and everything. However, Thursday is my favourite day. By Thursday, the weekend is so close you can almost taste it. Mmmm,
anticipationlicious
. Yet there's just enough time to get everything accomplished that you need to by the end of the week, or at least maintain the belief that you might!
If
Michael Penn
's favourite day was Thursday I could have dropped that tidbit here. Alas, he claims he doesn't know what his favourite day is. I like to think that when someone doesn't know, it's probably Thursday. On the other hand, a strong case could be made for Saturday, given that it actually
is
the weekend, you know you have another day of weekend left, and, as one fellow noted, you get to sleep in.
(Went to see Michael Penn at
Amoeba
last night. Will write about the show later, also need to get pics developed).
Thursday's child
"has far to go."
As usual... say it softly and it's like a lullaby... You can find out what day of the week you were born
here
and its alleged meaning
here
.
mp3:
Morphine - Thursday
(from Fairytale and Summer Day Reflection Songs)
mp3:
David Bowie - Thursday's Child
(from the remastered version of Hours with extra tracks and the remastered Best of Bowie. It was on the original version of Hours, the one without extra tracks, but that version is out of print. You can get a used copy though, if you'd rather have that version... or just dislike extra tracks on principle)
mp3:
Cranes - Thursday
(from Wings of Joy)
mp3:
David Axelrod - Holy Thursday
(from All Back to Mine and Songs of Innocence & of Experience)
mp3:
Giles, Giles & Fripp - Thursday Morning
(from the remastered The Cheerful Insanity of Giles, Giles & Fripp)
mp3:
Donovan - Jersey Thursday
(from Fairytale and Summer Day Reflection Songs)
mp3:
Ledisi - Meeting Marcus on a Thursday
(from Feeling Orange But Sometimes Blue: The Jazz Singer Limited Edition)
mp3:
Pizzicato Five - Sweet Thursday
(from The Sound of Music by Pizzicato Five)
The lyrics,
translated
:
The first time
The two of us
Ever spoke to each other
Was a windy Thursday afternoon
In May
On a dazzling Main Street
In front of a flower shop
In a bad temper
You stared at me
I still remember the little things
Like the lily you
You gave me
The first time
The two of us
Kissed was
A week later
On Thursday night
In a gentle rain
Walking for hours and hours
We repeated the same
Old gossip
Suddenly, the two of us
Pretended
To run out of topics
And we fell in love as expected
After that
When the two of us
Parted it was
A cloudy Thursday morning in
September
Before I knew it, you were not
In our bed
And the two of us would never
Meet again