New Dandy Warhols: Everyone Is Totally Insane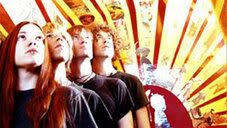 The Dandy Warhols'
Odditorum or Warlords of Mars
won't be officially released until Sept. 13, but the cute lil' thing is so eager to be heard, it just couldn't wait. (In other words, it leaked, but it would sound gross if I wrote that the cute lil' thing leaked). I like to think of this as a clever ploy by the Dandies to generate early good word of mouth, but I haven't yet heard the whole album. I might change my mind if I decide there's no way they could have that much confidence in the album as a whole. So far I like it.
mp3:
The Dandy Warhols - Everyone Is Totally Insane
You can download a couple more tracks from Odditorium from
Torr
.