Lloyd Cole: Music for Midnight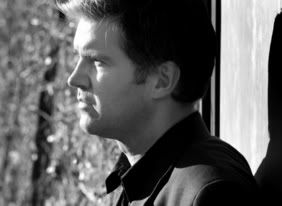 This had to be an evening post. I sometimes think of
Lloyd Cole
's songs as music for midnight, though he occasionally gets sufficiently upbeat to screw with that rather noir description. "Late night music" doesn't sound quite right, and his dusky voice and much of his oeuvre feel like midnight -- gritty and melancholy -- so "music for midnight" still works. Cole's songs may often have a somewhat bleak outlook, but he's never too despondent to be eloquent and often witty. He's... really, really... got a good way with words.
In reviewing 2004's
Music in a Foreign Language
, Bud Scoppa, a reviewer from
Paste magazine
wrote that
"Cole has matured into an ironist of wondrous articulateness, singing his artfully detailed songs in a world-weary voice that's clarity and nuance recall jazz great Chet Baker."
Yeah, that too. What he said.
Before the solo albums, there was the group, formed while Cole (who is English)
was studying philosophy at the University of Glasgow in 1982
. Along with Cole, the group's singer-songwriter, Lloyd Cole and the Commotions included Neil Clark on guitar, keyboardist Blair Cowan, Stephen Irvine on drums, and Lawrence Donegan on bass. The group released three albums
Rattlesnakes
(1984),
Easy Pieces
(1985), and
Mainstream
(1987) before Cole embarked on a solo career. In 1984, to commemorate the twentieth anniversary of
Rattlesnakes
, the group embarked on a
short reunion tour
.
Cole is in the studio now (well, possibly not
now
; he could be eating a sandwich at the moment. Nevertheless, he has been working on a new album, and he's maintaining a
Studio Journal
to track his progress, and record his thoughts along the way. It's both cool and slightly disturbing. Cool, because the insights into the process are interesting and Cole's writing makes it more so... it sounds like him (unsurprisingly). Slightly disturbing, as recording an album seems like an awful lot of work (unsurprisingly, but still. You feel for the guy. Or I do, but I hope you would too). Also evidently when musicians do take breaks, sometimes it's for things like golf, which he enjoys at the time but which hurts him later. If he's been secretly writing golf songs all this time and just switching words around at the end to make them seem like they're about other things like love and life... he's a pretty cheeky monkey, and should get some sort of special golf/music/trickery award.
Cole launches an
acoustic tour in November (UK-only)
. Possibly his
October 1 acoustic concert near Oporto in Portgual
will warm him up a bit for the U.K. gigs.
MP3:
Lloyd Cole & the Commotions - Perfect Skin
(from
Rattlesnakes
and
1984-1989
)
mp3:
Lloyd Cole & the Commotions - Sweetness
(from
Rattlesnakes
)
MP3:
Lloyd Cole & the Commotions - Lost Weekend
(from
Easy Pieces
and
1984 - 1989
)
mp3:
Lloyd Cole & the Commotions - Cut Me Down
(from
Easy Pieces
)
MP3:
Lloyd Cole & the Commotions - Mr. Malcontent
(from
Mainstream
and
1984 - 1989
)
mp3:
Lloyd Cole & the Commotions - Love Ruins Everything
(from
Love Story
)
MP3:
Lloyd Cole - Music in a Foreign Language
(from
Music in a Foreign Language
)
MP3:
Lloyd Cole - Brazil
(from
Music in a Foreign Language
)
MP3:
Lloyd Cole - Chelsea Hotel
(Leonard Cohen cover, from
I'm Your Fan - Songs of Leonard Cohen
)
MP3:
Lloyd Cole & the 6ths - Human
(Human League cover, from
Reproductions: Songs of Human League
)