Fiona Apple In-Store Concert this Thursday in L.A.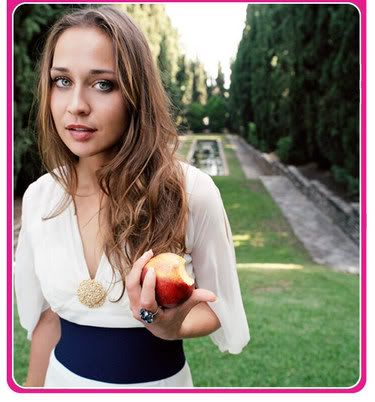 Fiona Apple
will be playing an in-store set at Tower Sunset Pop in Los Angeles this Thursday at 7:00 PM. A CD purchase is required to get a wristband and see the show. *Note*: you can try saying, "I don't need a wristband, I just want to see the show" but it will probably not work. However, if you do try this, please report back on how it goes!
Another suggestion: If you go, when you meet Fiona during the signing, ask in a stage whisper whether she knows that "a while back her album leaked on the internets, only some of the songs sound just a little bit different and the names of some are different now, and why is that?" Zero credit if you can't do it deadpan. No, I wouldn't do it. I'd ask her if she uses coupons while grocery shopping. If someone could ask her that for me, that would be awesome of you. Let's all make our own secret guesses to ourselves about the answer just in case some cool person actually does this. I can't ask for myself! I have plans with friends who will get together with or without me there, but without me, they will spend the whole time talking about me. Well, I won't be paranoid. Maybe 85% of the time, with a chunk of it devoted to "pining", and the rest divided between gossiping and plotting revenge. Unless any of them read this at some point, in which case I'm kidding.
Blurb about the show from
Tower Records
:
Hear & Meet Fiona Apple - 10/6/2005 07:00 PM
Tower Sunset Pop (8801 Sunset Blvd, Los Angeles, CA )
The long wait is over. Fiona Apple will appear at Tower Sunset performing songs from her first CD in 6 years, Extraordinary Machine. This will be a very rare opportunity for you to see Fiona in a intimate setting. Starting on release date, October 4th, purchase Fiona's new CD at Tower Sunset to receive a wrist-band good for the signing & performance.
updated
to add a parking tip. Copying this from the comments page (hey, it's from my own comment!)
The place to park will likely not be in the small lot right there at Tower... if you take the freeway, you'll drive on Sunset for a while and eventually get to a (non-underground) lot on your right marked something like "Tower parking". It's quite close to Tower, just a short walk across the street. That's the lot to use for events (a couple of people said they were asked to move their car from the store lot the night the New Pornographers played). There's a machine you can use to pre-pay your parking because we are living in the age of miracles (and it takes credit cards or cash).
Parking isn't expensive -- at least if you "tell" the machine you'll be spending some dough at Tower... I think you'll pay about a couple bucks.
mp3:
Fiona Apple - O' Sailor
(from
Extraordinary Machine
)