New Liz Phair: Leap Of Innocence, Stars and Planets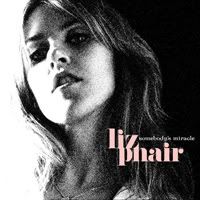 Liz Phair
has a new album out tomorrow by the name of
Somebody's Miracle
. Each song on
Miracle
"offers Phair's corollary to a classic album."
Why, that sounds vaguely familiar... Phair
calls "Stars and Planets" a "very pitiful Sir Duke."
So she's like the old Liz Phair, but humble?
Oh, and about any of you fans who thought she was a "Judas"?
She gets it but not the part about how y'all kept saying it for so long. "I felt like I should get these people a therapist," she says. "They must have better things to do. It's only music."
Ah yes. Liz Phair, musician, says: "It's only music." At least she didn't say "Get a life." (I'm not one of those "betrayed fans" she's addressing. She may have some point but it's hard to notice it beneath all the venom. Surely she could have conveyed her message more effectively with a bit of wit or at least a bit less anger)
Phair calls her first single "Everything to Me"
"a small song with sad lyrics that we really seriously forgot about."
Aaaand then her producer kept working on it, and gave it to her record label, who called her and they were "freaking out" about it, apparently in a positive way. At first Phair says, "I'm like, what are they talking about? What song?" Now, if I was in Phair's position, I would have been like, "what are they talking about? Hey, is this possibly a prank for the hit television program Punk'd? If so, perhaps this would be a good moment to do something subversive and take advantage of the opportunity, while not allowing myself to be used as the victim of a practical joke." But maybe that's just me.
Rolling Stone has panned
Miracle
, for what that's worth (in the magazine, possibly less than three stars). On the album, reviewer Rob Sheffield writes, Phair
"goes for a folksy, acoustic style, but she still oversings, holding notes too long and tackling pop choruses she doesn't have half the voice for."
However, Entertainment Weekly was more impressed, giving the album a B-, though David Browne said she
"sounds mostly bored, coming alive only on fizzy numbers like the rueful title song, the proudly hackneyed 'Count on My Love', and the wistful 'Leap of Innocence', with its very Phair-ian lyric twist."
I think her voice really sounds thin and stretched on some of the songs. Whatever happened to using machines to pretty-up that kind of thing? Perhaps the contrast would have been too obvious once she embarked on her
acoustic tour
.
Phair and Ticketmaster are having
an auction
for "Meet & Greet passes" to several of the dates on the tour (those shows are listed below), with the funds going to the
Elizabeth Glaser Pediatric AIDS Foundation
. (Unfortunately, Ticketmaster's link to the Foundation is incorrect, but that link is good. Hey, Ticketmaster, the Foundation is not a dot.com.
updated
to add that I wrote to the Elizabeth Glaser Pediatric AIDS Foundation to tell them the American and Canadian Ticketmaster websites' links were wrong, so they'll likely contact the right people at both sites and hopefully the links will be corrected soon).
10/06 Ft. Lauderdale, FL
10/07 Orlando, FL
10/08 St. Petersburg, FL
10/10 Atlanta, GA
10/14 Boston, MA
10/16 Philadelphia, PA
10/23 Toronto, ON
11/13 Portland, OR
mp3:
Liz Phair - Leap Of Innocence
(from
Somebody's Miracle
)
mp3:
Liz Phair - Stars and Planets
(from
Somebody's Miracle
)