Decoding Kate Bush's Hidden Message/Preview of Aerial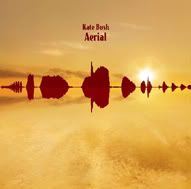 The artwork for Kate Bush's forthcoming album
Aerial
is said to
contain a soundwave image containing a hidden message, which naturally some fans are trying to decode
. The following are the leading contenders: "We paint penguins pink", "Elvis is alive" and "Wind and waves of love".
There is speculation that "King of the Mountain"
may be about Elvis Presley
, we do, in fact, paint penguins pink, and that last one seems pretty Kate Bushesque. So hard to pick a favourite and it may be none of those.
A "source" said
"All the artwork on the album is interlinked and the cover art is supposed to get people guessing. The true message will only be revealed when you buy the album."
How about "Haha, suckers" or "This space for rent"?
The Guardian offers a
preview of the musical portion of Aerial
in today's edition. Part of the musical portion, that is. Their reporter went to EMI and was given the opportunity to listen, in the company of a guard, to one "side" of
Aerial
(the equivalent of a disc of the two-disc set, I gather). She picked side one, and deems it "worth the wait." I boldly predict this will not be the last time that phrase will be used in conjunction with
Aerial
.
A few quotes:
"She's still seething with strangeness and brilliance."
"Joan of Arc pops up in the stunning, atmospheric 'Joanni.'"
"Most intriguingly, there is a song called 'Bertie' where one hears a whole new Kate Bush - a mature, doting creature both energised and sucker-punched by mother love. 'Where's that son of mine?' sings Kate, adding breathlessly, 'Here comes that son of mine.'"
(Bertie is the name of her son, who is seven)
Aerial
will be released Nov. 7 in Europe and Nov. 8 in North America.