Video of Decemberists on Conan, Sonic Youth Reissue, New tracks (Elbow/Dandy Warhols/Constantines)
video:
Decemberists - We Both Go Down Together (live on Conan O' Brien 7/12/05)
, with thanks to Quinn at
From Blown Speakers
where I found the video and Wendy, who first posted it at
Via Chicago
.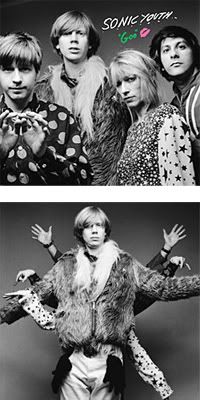 Sonic Youth
plan to release an expanded version of their 1990 album Goo on Sept. 12
. The set will include 31 songs on 2 CDs (or 4 records for you old school types -- you
will
have the vinyl option). Included: the original album's songs remastered, remixed/remastered versions of the eight-track demos, B-sides, rehearsal outtakes (such as a cover of The Beach Boys' "I Know There's An Answer"), and (on promo copies only), a "Goo" interview flexidisc. You can check out the full track listing
here
or at
Sonic Youth's website,
, though this page may obnoxiously resize your browser window -- hopefully you can just re-maximize it.
mp3:
Sonic Youth - Dirty Boots
(from Goo)
mp3:
Sonic Youth - My Friend Goo
(unsurprisingly also from Goo)
Some nifty new songs over at
Torr
, including
two songs from the forthcoming Elbow album
- one the first U.K. single. He also posted three songs from the Dandy Warhols' upcoming album Odditorium or Warlords of Mars,
Smoke it (which is the first single) and Down Like Disco
, as well as
Love is the New Feel Awful
.
Meanwhile,
From Blown Speakers
has a song from the forthcoming third Constantines album, Tournament of Hearts, which goes on sale October 11.
mp3:
The Constantines - Sub-Domestic
(from their second album, Shine a Light)
mp3:
The Constantines - On to You
(ditto. This sounds like a cross between Spoon and one of Pavement's poppier songs, as sung by Springsteen)