Arctic Monkeys at Spaceland
Arctic Monkeys
played their first L.A. show to a packed house Friday night, and sounded about as talented, fresh, and brash as expected. Not anticipated were other factors that ultimately made the show one that mostly sounded good, but was not overall a great experience.
As the group walked on stage, cheers and applause were punctuated with cries of "You rock!" and "You're awesome!" Singer/guitarist Alex Turner, hampered by a bad cough, might have appreciated that the crowd, unsurprisingly for an Arctic Monkeys show, frequently sang along with him (but was stumped by the fairly new "You Probably Couldn't See"). He struggled to confine his coughing to the lyric breaks. Although Turner apologized for the hacking, he is soft-spoken at the best of times and much of the crowd likely didn't hear him. In between songs, fans outshouted him with pleas for their favourite tunes ("Mardy Bum" in particular). Hecklers also marred the show. Turner nonchalantly replied to one obscenity-laced, mostly incoherent taunt, "Whatever you said, that was rude." Most of what Turner said to the audience was devoted to responding to jeers. He did manage to ask, "So this is Los Angeles, is it?" and wonder aloud what they were doing there. That was before the heckling grew ugly and it might have seemed like a really good question rather than a flippant remark.
While the band is extremely confident, in particular for none of them being old enough to, as Turner noted, step off the stage in the 21+ club, the increasing levels of hostility seemed to surprise them. Guitarist Jamie Cook and drummer Matt Helders seemed to maintain better spirits than Turner, who gave his all, but seemed, well, sick and tired. Cook and Helder also seemed to have the most energy, and played their hearts out. Bassist Andy Nicholson seemed grimly determined to resist shouts to "Smile!" but eventually relented, and mostly aimed his grins at Helders.
I first noticed the worst of the crowd misbehaviour when Arctic Monkeys played their next single, "When the Sun Goes Down" (formerly called "Scummy", and to be released January 16th). That was the violent moshing (evidently, all music is suitable for moshing). After the show, one woman said she thought she was going to have to break a glass over the head of an unrelenting mosher.
The group sounded lively and fun (
watching
Turner suffer wasn't fun). Early on, the crowd's enthusiasm was positive and infectious. Arctic Monkeys' talent and confidence was obvious, as was much of the crowd's affection for them. The odds are quite strong that the group will play many more concerts in L.A. Hopefully future gigs will favour band and audiences alike with better circumstances to allow for truly great concert experiences.
Arctic Monkeys Setlist:
1. View From The Afternoon
2. I Bet You Look Good On The Dancefloor
3. Still Take You Home
4. Dancing Shoes
5. Fake Tales of San Francisco
6. You Probably Couldn't See
7. From The Ritz To The Rubble
8. When The Sun Goes Down (better known as Scummy - this is the next single, which will be released on January 16th)
9. Vampires
10. Mardy Bum
11. A Certain Romance
(no encore)
Standout songs: "I Bet You Look Good On The Dancefloor" was lots of fun. Afterward, someone called out "Brilliant!" Alex Turner calmly responded, "Brilliant? That'll do." "Still Take You Home" was excellent and like "Dancefloor", is an especially catchy singalong tune. Those songs worked well for the ailing Turner. "Vampires" made a fitting soundtrack for right after the bizarre moshing incident.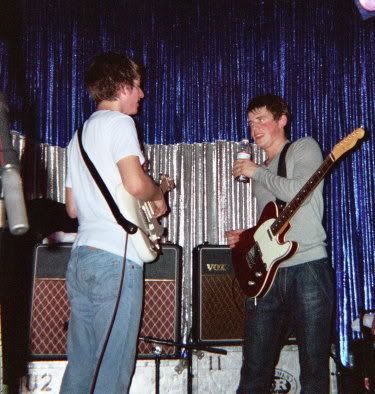 Linkage:
If you haven't already snagged them (or even if you have), you can grab
MP3s from Arctic Monkeys' October 3rd Manchester concert
.
Linkage:
Prefix Magazine, an actual American magazine, has posted
part one of an Arctic Monkeys interview
; part two will be posted on Tuesday.
Supporting Arctic Monkeys were surf-rock group
The Tyde
and the Teenage Fanclub-influenced power-pop act
Army Navy
. They faced an uphill battle opening for such a highly anticipated band. I found Army Navy's set a bit more distinctive and varied, but both acts delivered a few especially crowd-pleasing tunes. Standout tracks from Army Navy included "Silvery Sleds" and "Snakes".