The Cars Get a New Driver, Inspire Bad Puns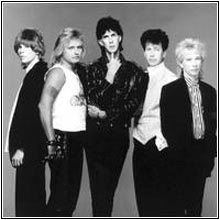 Perhaps inspired by the surviving members of INXS' determination to resurrect
their
group with a new lead singer, the Cars' guitarist Elliot Eastman and keyboardist Greg Hawkes
have announced plans to tour and "possibly" record an album in 2006 as the New Cars without either of their original vocalists.
The new wave "old" or "classic" Cars formed in 1976, split in 1988, and did the reunion thing in 1992 with original members Ric Ocasek (lead vocals) and Ben Orr (bass/vocals). Ocasek is not participating in the New Cars, though he was working on a Cars documentary as recently as this summer. Orr died of cancer five years ago.
Todd Rundgren will take over vocal duties. Explaining his decision to join the group, he said,
"So now an opportunity has arisen for me to pay my bills, play to a larger audience, work with musicians I know and like, and ideally have some fun for a year."
He claims the possibility of a reunion of his own band, Utopia, was "extremely remote".
Rundgren's bassist Kasim Sultan tells Phoenix radio station KLSX
he has replaced Orr on bass and that Tubes drummer Prairie Prince is also a New Car
. Sulton told KSLX, "We've already recorded some new songs and are scheduled to be touring all nexr year... We're planning to record a live CD/DVD sometime after the New Year and a possible TV appearance before Christmas... I'm really excited to be involved in this new project with a great bunch of guys... I mean come on, Todd and me playing Cars songs? It'll be like hearing them for the first time."
MP3:
The Cars - Just What I Needed
(from
The Cars
,
Greatest Hits
)
MP3:
The Cars - Shake It Up
(from
Shake It Up
,
Greatest Hits
)
MP3:
The Cars - Heartbeat City
(from
Heartbeat City
,
Greatest Hits
)
MP3:
Utopia - Freedom Fighters
(from
Todd Rundgren's Utopia
)