Enon Seeks New Bandmate, Announces Tour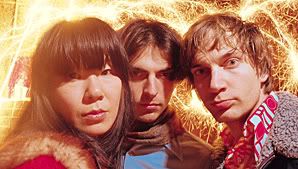 CMJ
reports that offbeat noise-synth pop trio
Enon
is looking to add a fourth to its ranks, specifically
"a multi-instrument expert and/or guitar god"
. The addition of such a skilled musician should have an interesting impact on Enon's quirky sound.
Also, the band will be able to play "4 or more players" games. And then I imagine at first, a couple of bandmates might tell the third they plan to boss the new one around for a bit as a part of a friendly hazing ritual, order them to fetch chips and soda, that kind of thing. When only one person did that, the new person would think they were a jerk, an impression the others would initially do nothing to correct. Naturally, 70s-sitcom-style-hilarity would ensue. CMJ doesn't mention anything about game-playing skills or hazing, but one should be prepared, just in case.
Upcoming Enon
Tour Dates
:
March 24 - Telluride, CO - Sheridan Opera House
March 25 - Denver, CO - Bluebird Theater
April 15 - Richmond, IN - Earlham University
April 18 - Akron, OH - The Lime Spider
April 19 - Cleveland, OH - The Spot
April 20 - Newport, KY - Southgate House
April 21 - Columbus, OH - Little Brothers
April 22 - Notre Dame, IN - Legends
Enon - The Nightmare Of Atomic Men
(from
Lost Marbles And Exploded Evidence
)
Enon - Leave It To Rust
(from
High Society
)
Three more Enon songs ("Kanon", "Believo!", and "Rubber Car") are
available for free download at Amazon
.