Eels Design Contest and i-Pod Nano Giveaway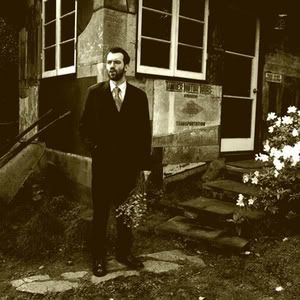 There are a couple of new contests at the official
Eels website
. They might appear well-timed to coincide with the
tour
the group just announced, but let's not be cynical. Coincidences are a beautiful thing.
A "LIFETIME of bragging rights" is just one of the prizes for the winner of the
"Show Us Your Eels Art" Design Contest
. A limited edition t-shirt will be produced, using the winning design, and the Eels-endorsed artist gets 5 of the shirts.
Indeed, Eels themselves are judging the contest, so you can essentially force them to look at your art! It's a prize in itself!
Unsurprisingly, Eels will own the winning design, they reserve the right to sell any merchandise they want using it, and the designer will not be "entitled to any associated revenue or profits". Bummer about that last part, but it only cuts slightly into the pleasure of a "LIFETIME of bragging rights". Not getting "associated revenue or profits" doesn't sound quite as bad as not getting "tall stacks of money". Five shirts, a cool credit, and those bragging rights could be worth more than the "associated revenue" ever amounted to! Either way, at least it would be a band you like making money from your art.
To enter the contest, check out the
rules and disclaimers
, slave away on one design, and send it by email or snail mail by April 24 at 4:00 PM.
The other contest requires luck and money, rather than skill. From now until May 5th, everyone buying "$20 or more (subtotal)" at the
eels' official store
is automatically entered to
win one three eels i-Pod Nanos
, "loaded with the EELS U.S. iTunes Store catalogue, and engraved with a personal message from the EELS!" It's probably something interesting too, not something along the lines of "Thanks for purchasing $20 or more (subtotal) of EELS merchandise from the EELS official store!" Particularly since that sort of message would have to be in very tiny text. Those i-Pod nanos are quite small; you could easily fit one in your mouth. You probably shouldn't, but you could.
As for the Eels tour, the guys announced the
2006 Live And In Person! No Strings Attached Tour
, the name both differentiating it from and slyly promoting their "Eels With Strings: Live At Town Hall" album and DVD.
The tour begins with a couple of "warm-up" shows May 25 and 26 in West Hollywood, CA and continues through over two dozen dates in North America and Europe, with more to be announced, including shows in Australia.
Smoosh
will open the North American dates; no supporting acts have been announced for the European shows.
Eels
Tour Dates
:
May:
25 & 26 - West Hollywood, CA - The Roxy (warm-up shows)
27 - San Diego, CA - House of Blues
28 - Santa Ana, CA - Galaxy Theatre
31 - San Francisco, CA - The Fillmore
June:
1 - Sacramento, CA - Harlow's
3 - Portland, OR - Roseland
4 - Seattle, WA - Showbox
6 - Salt Lake City, UT - The Depot
7 - Boulder, CO - Fox Theater
9 - Indianapolis, IN - The Vogue
10 - Pittsburgh, PA - Three Rivers Arts Festival (free)
11 - Washington, DC - 9:30 Club
12 - Philadelphia, PA - Theatre of Living Arts
13 - New York, NY - World Financial Plaza (free)
15 - Somerville, MA - Somerville Theatre
16 - Montreal, Quebec - Le Nacional
17 - Toronto, Ontario - Mod Club Theater
August:
5 - Chicago, IL - Grant Park (Lollapalooza)
Eels - Sweet Li'l Thing
(from
Blinking Lights and Other Revelations
)
Eels - Pretty Ballerina
(Left Banke cover, from
Eels With Strings: Live At Town Hall
)
Eels - Guest List
(from
Beautiful Freak
)
Eels - Lone Wolf
(from
Shootenanny
)
Eels - Jennifer Eccles
(Hollies cover, from
B-sides and Rarities
)