Male Humpback Whales Are Copycats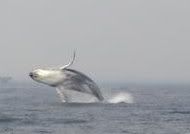 Using
information theory
, researchers studying the songs of humpback whales have concluded, in a study published in the March
Journal of the Acoustical Society of America
, that, although the songs did not quite meet the standards of a true language,
"elements of language are seen in their songs"
. The songs involve "complex grammatical rules" and show, for the first time, a creature other than humans can communicate using a hierarchical syntax. It was already known that whales from different areas
speak in different dialects
. Although impressive amounts of information are conveyed by whale songs, researchers noted that
they convey much less information than humans
. The comparison cited is: whale songs: less than one bit per second, human: 10 bits per word spoken, but I wonder what our rate is when singing. Also, a whale can sing for 20 hours; maybe they can afford an oven pace instead of a microwave pace. Perhaps their information is tastier and more accurate.
Naturally, researchers chose to study whales during their mating season. It's a long one, though, so a bit less convenient to schedule around it, if they were inclined to, which I doubt they were. During the whales' six-month mating season,
all males sang the same song, even as it kept growing more complex
. Researchers speculated that a male whale would find more luck in the mating game by changing the song, and that this would not go unnoticed. The other guys would in fact react by copying his successful song. Bummer for the one creative whale, but don't hate the playas, hate the game.
Streaming audio of
humpback whale songs
is available at LiveScience.com.
Catatonia - Whale
(from
Way Beyond Blue
)
Cerys Matthews
, the former lead singer of Catatonia, is now
working on a solo album
, which is set to be released this year. She'll be playing a few shows in July as follows:
July 22 - Llangollen Town Hall
July 24 - Cardiff The Point
July 26 - London The Scala
July 29 - Cambridge Folk Festival