NME Shockwaves Awards CD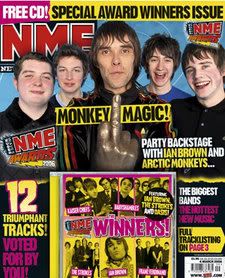 The current
NME
is a "special award winners issue", the awards in question being the NME Shockwave Awards.
*crickets*
You know, The NME Shockwave Awards... Kaiser Chiefs'
Employment
won Best Album (supported by HMV)? Very exciting. Franz Ferdinand won Best Live Band (supported by Carling).... Okay, maybe not that exciting, but it's a good deal for NME. They have an awards show and afterparty underwritten and that bands will actually attend. And, hey, readers get an awards-themed CD.
There's even more to the current NME than all the fascinating awards content. This issue also includes part two of an interview with Morrissey, fully in
Ringleader Of The Tormentors
promopalooza mode. This interview segment includes his comments on political matters -- he still hates Bush, Blair, and the Iraq War, feelings which inspired his new song "I Will See You In Far Off Places". Moz also gets personal. He is not celibate anymore and hasn't been for "a very long time". He also finds it "quite boring" when people make assumptions about his sexuality.
Alex James also submits to the NME interview machine. Asked whether there will be "an amazing new direction for Blur" on their next album, he responds, "It's pretty fucking tough-sounding. Foo Fighters are going to wet their pants when they hear it." Let's hope that's a good thing.
NME - The Shockwaves NME Awards 2006 - The Winners Track Listing
1. Franz Ferdinand - You Could Have It So Much Better
2. Editors - Bullets
3.
The Long Blondes - Once And Never Again
(previously unreleased)
4. We Are Scientists - This Scene Is Dead
5. Oasis - Rock 'N' Roll Star (Live)
6.
The Cribs - Mirror Kissers (Live)
(Recorded at Leeds Cockpit. Original version on
The New Fellas
)
7. Maximo Park - Now I'm All Over The Shop
8. The Strokes - On The Other Side
9.
Kaiser Chiefs - Saturday Night (Live)
(Recorded at San Francisco Fillmore. Original version on
Employment
)
10. Ian Brown - My Star
11.
Mystery Jets - The Tale
(From the single "On My Feet")
12. Babyshambles - Albion