Uncut September Playlist CD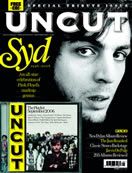 Uncut
's September issue pays tribute to Syd Barrett's "madcap genius" with the help of an array of artists such as David Bowie, Julian Cope, and Damon Albarn.
More on the issue to come. As always, Uncut includes an eclectic Playlist CD, much of it offering a sample of new and future releases.
Uncut: The Playlist September 2006 Track Listing:
1.
The Dears - Whites Only Party
(from the forthcoming
Gang Of Losers
)
2.
Micah P Hinson And The Opera Circuit - You're Only Lonely
(from
Sketchbook
, available August 28 in the U.K.)
3.
The Young Knives - Loughborough Suicide
(from
Voices Of Animals And Men
, out August 21 in the UK)
4. P.F. Sloan (featuring Frank Black) - Eve Of Destruction
5. Captain Beefheart - Ice Cream For Crow
6. Slade - Miles Out To Sea
7. Comets On Fire - Lucifer's Memory
8. Billy MacKenzie - Baby
9. The Nazz - Meridian Leeward
10.
Chris Difford - Up The Junction
(acoustic cover of a Squeeze song, raising the question of whether he has to pay royalties to himself for covering it. Available on the CD/DVD set
South East Side Story
)
11. Amon Düül II - Archangel Thunderbird
12.
Lambchop - Paperback Bible
(from
Damaged
, available August 22 in the U.S., out now in the U.K.)
13. Chilli Willi And The Red Hot Peppers - Goodbye Nashville, Hello Camden Town
14. Pulp - Deep Fried In Kelvin