Mansun's Greatest Hits Due In Sept. In Both Special & Ordinary Editions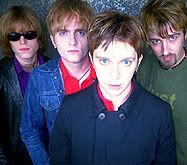 English alt-rock group Mansun, who broke up three years ago, will
release a greatest hits collection next month
.
Legacy - The Best Of Mansun
will be available in two editions. The "special" edition will include a DVD with all every Mansun video, plus "'rare' behind-the-scenes and live footage", which will no longer be rare once it's released to the public. The other, presumably "non-special" edition just includes a CD with some Mansun songs you probably already own if you're a big Mansun fan. Therefore, record store clerks have been instructed to make a derogatory remark to that effect to those purchasing the non-special edition, inquiring why they didn't "shell out" the "extra clams" for the special one, implying it's likely because they're not a "real" fan. Those who purchase ordinary CDs will receive a strongly worded note to the same effect, and their jewel case may be slightly cracked.
Mansun's former frontman
Paul Draper
still has a solo album in the works. As of last November, he had
seven finished songs
, as well as "a whole pile of unrecorded songs" in the process of being demo'd. He'll finish it when he's good and ready; stop hassling him.
However, he
has
had other projects keeping him occupied, such as writing and producing music with
Skin
, former singer for Skunk Anansie. Her latest album
Fake Chemical Skin
is currently available in only one edition, which is quite confusing.
Legacy - The Best Of Mansun
CD Track Listing:
I Can Only Disappoint U
Wide Open Space
(available on
Attack of the Grey Lantern
)
Stripper Vicar
Being A Girl (Part One)
Negative
Take It Easy Chicken
Legacy
She Makes My Nose Bleed
Closed For Business
Six
Getting Your Way
Electric Man
The Chad Who Loved Me
Egg Shaped Fred
(available on
Attack of the Grey Lantern
)
Slipping Away
Fool
Taxloss
DVD Track Listing:
Flourella
Egg Shaped Fred
Take It Easy Chicken
Stripper Vicar
Wide Open Space
Wide Open Space (US version)
She Makes My Nose Bleed
Taxloss
Closed For Business
Legacy
Being A Girl (Part One)
Negative
Six
I Can Only Disappoint U
Electric Man
Fool